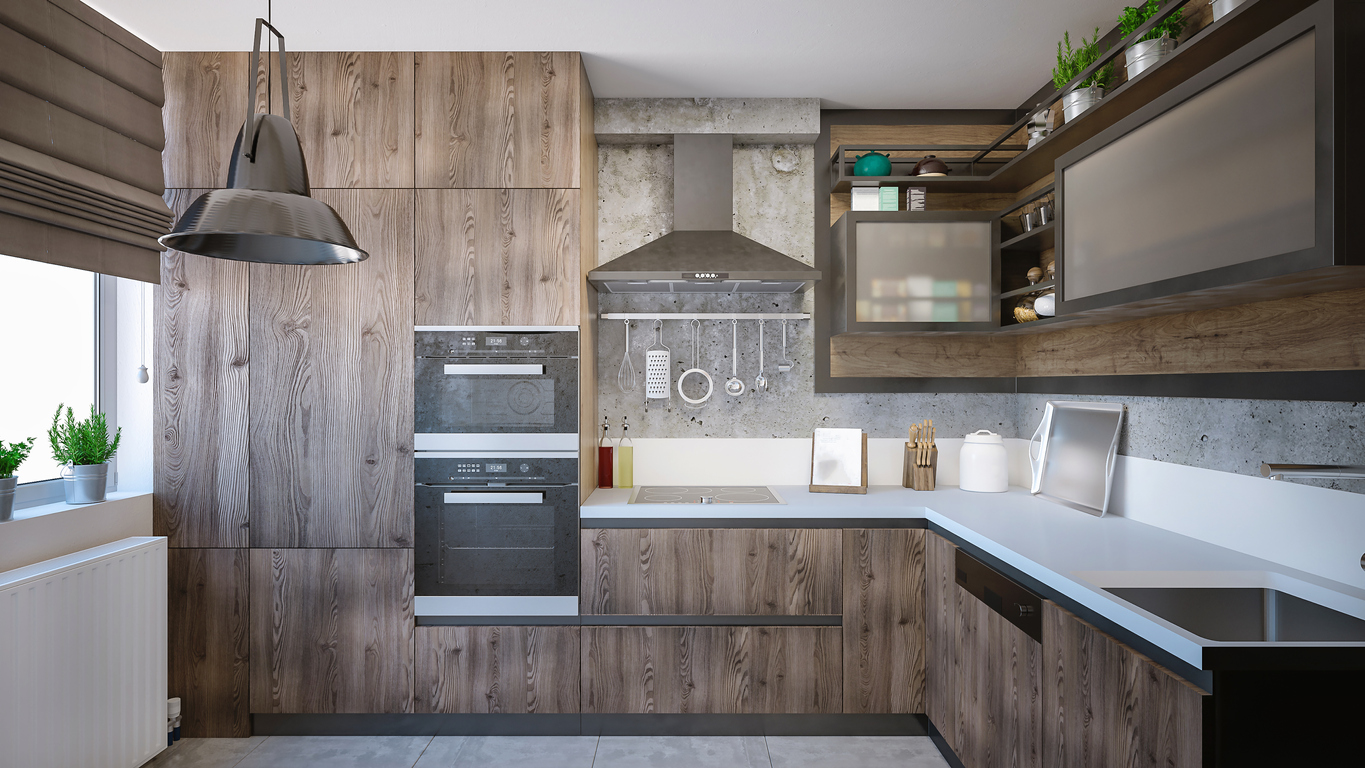 Do you love the idea of remodeling your kitchen, but hate the thought of buying and installing all new cabinets? If so, then you're not alone. Far too many dream kitchens are never realized because of the time, expense and mess associated with kitchen remodeling projects. However, there is another option for you to consider.
Refacing offers a quick and affordable way to renovate your kitchen at a fraction of the cost of a traditional kitchen remodeling. Rather than replace all the cabinets, you can simply reface them.
Cabinet refacing is a cost-effective way to update and completely transform the look of a kitchen—without replacing a single cabinet. Refacing consists of installing all new kitchen cabinet doors and cabinet drawer fronts onto the existing cabinets and drawer boxes. All the old knobs, pulls and hinges may be replaced, as well. And the cabinet face frames and any exposed cabinet ends are veneered or painted to match the finish on the new doors and drawer fronts.
Refacing existing cabinets is much faster, neater and cheaper than ripping out all the old cabinets and installing new ones. A full kitchen remodel can take upwards of 6 weeks from beginning to finish, if you include production time. Refacing those same cabinets would take just three or four days once you receive your new doors. Plus, you can reface cabinets without disturbing the countertop, which isn't possible when installing all new cabinets.
And don't confuse cabinet refacing with cabinet refinishing. As mentioned, refacing includes brand-new cabinet doors and drawer fronts. With cabinet refinishing, the old doors and drawer fronts are removed, refinished, and reinstalled. Refinishing is fine if you just want to freshen up the cabinets, but if you want to completely transform and update your kitchen, cabinet refacing is a much better option. And refacing is very DIY-friendly; no special tools or skills required. However, you must first determine if cabinet refacing is a viable option for your kitchen.
Cabinet Assessment
With cabinet refacing, it doesn't matter how badly outdated or dingy the doors and drawer fronts are. All that matters is that the cabinets and drawer boxes are in sound condition and free of any serious damage. Here's a quick checklist to evaluate your kitchen cabinets:
Check inside each cabinet for cracked side panels or loose bottoms. Gently poke around with an awl or pocketknife. If you find soft, spongy areas, it could indicate wood rot or water damage.
Be sure all upper cabinets are securely fastened to the walls, and to each other.
Check base cabinets for water damage, especially under the sink. The cabinet bottoms should be firm and flat, not warped or sagging.
Cabinet face frames, if any, must be firmly attached to the cabinets. Small cracks and holes can be filled with wood putty, but face frames that are split must be replaced.
All fixed shelves should be securely attached and not cracked, loose or warped.
Drawers must roll smoothly, open fully and close completely. Remove them from the cabinets and inspect their structural integrity. Drawer bottoms must be secured within the drawer box and not cracked or sagging. If necessary, order new cabinet drawer boxes.
The drawer slides—whether made of metal or wood—must be firmly attached and in good-working order. Check the slides for loose or missing fasteners, and damaged or worn-out parts.
Online Ordering
Once you've decided to reface your cabinets, the next step is to browse our cabinet door styles and drawer fronts to decide what you'd like for your new, updated kitchen. And don't worry, we offer seven door designs in nearly 180 different styles, so you're sure to find one to suit your kitchen design, personal taste and budget.
After choosing the door design and style, you must then pick the wood species. There are several choices including both stain- and paint-grade options. Stain-grade doors come in oak, maple, walnut, cherry, pine, hickory, alder and birch. Paint-grade options include, poplar, alder, or maple frames with birch or MDF (medium density fiberboard) panels. Prices vary widely based on door styles and wood species, but generally speaking hardwood doors cost the most, and paint-grade doors cost the least.
When ordering doors, measure each existing cabinet door carefully and enter the dimensions (width and height) into the easy-to-use online order form (If you need help, see How to Measure Cabinet Doors).
Next, order the drawer fronts, making sure they match the style and wood species of the doors. Keep in mind that all wood doors and drawer fronts come unfinished, so you can stain or paint them any color you'd like. However, there is also a pre-finished, ready-to-install product called, Rigid Thermal Foil (RTF).
RTF doors and drawer fronts have an MDF core that's essentially shrink-wrapped in polyvinyl chloride (PVC). The thin layer or "foil" of PVC is permanently bonded to the core under high heat and extreme pressure. The result is a low-maintenance surface that's very durable, stain-resistant and easy to clean.
Once you've placed your order, the refacing products are shipped right to your door, normally within seven business days. Then, stain or paint the doors and drawer fronts, or bring them to a local cabinetmaker and pay to have them professionally finished. Either way, your new dream kitchen will become a reality in just a few short days.