Posted by John C. on 2021-09-23
The bathroom is a very personal place. It's where we go to get ready for the day in the morning and prepare for sleep in the evening. Bathroom remodels can seem overwhelming because, on the one hand, they threaten this essential space, but they also can carry a hefty price tag. But don't worry because there are plenty of ways for any budget-conscious homeowner looking to makeover their bathroom without breaking the bank.
You don't need to spend a fortune on your bathroom remodeling project. For those who are looking for an easy, affordable way to update the look of their bathrooms without major construction work or spending too much time and money - this blog is perfect! We'll be taking a close look at some creative ways that you can give new life into an outdated bathroom so it will feel like brand-new spaces in no time.
---
Remodel Your Bathroom With Wallpaper
Updating or adding a bright wallpaper to your bathroom can be an easy and budget-friendly way to instantly give the space a much-needed makeover. To really change up how it feels, opt for something that is brighter in color like red or yellow! This will reflect light throughout the room which not only has its own calming effect but also makes your space feel more spacious.
To get started on this quick, DIY bathroom remodel project, remove the old and outdated wallpaper. You'll need to scrape all the old wallpaper off of the wall. Next, you will need to scrub the walls clean before you can apply the new wallpaper. Once the walls are clean, you can apply the new wallpaper of your choice. In addition to things like opting for bright colors, also consider personalized touches like stencils and other designs that can help take your style to the next level. Before we move on to the rest of the room, let's take a look at another option for updating the walls: paint!
---
Remodel Your Bathroom With Paint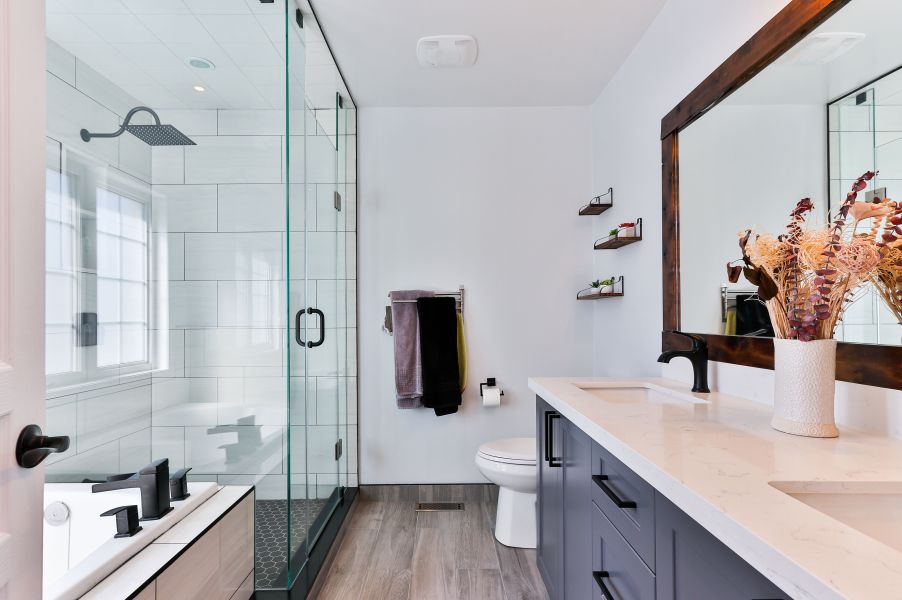 A new coat of paint, or two, can be another way to give your bathroom a quick facelift without having to spend a lot of money. The first step will remain mostly the same; stripping away the old wallpaper and scrubbing the walls clean. Instead of applying the paste and the new wallpaper, next, you will apply two coats of primer.
Like with wallpaper colors, opt for bright, light colors to keep the space feeling clean and open. Painting a room is a great way to nearly instantly change the look and feel. Painting is also a task that can be accomplished by almost any DIY'er. If your bathroom design features a window, then you could also paint the window frame an accent color. Adding pops of color around the room is a great way to compliment your freshly painted walls.
---
Smaller Touches
Adding glass shelves can help to increase the brightness of the room, and they add a great interest piece. If you want to make your bathroom even brighter we recommend adding this project on top of any other remodeling work needed. If you can, hanging glass shelves in front of a window will reflect natural light in your space, and it makes for a great space for plants. Adding plants and other natural elements to your design is a great way to make the space feel more inviting and comfortable. Plus, if you choose the right plants, they will also act as air filters!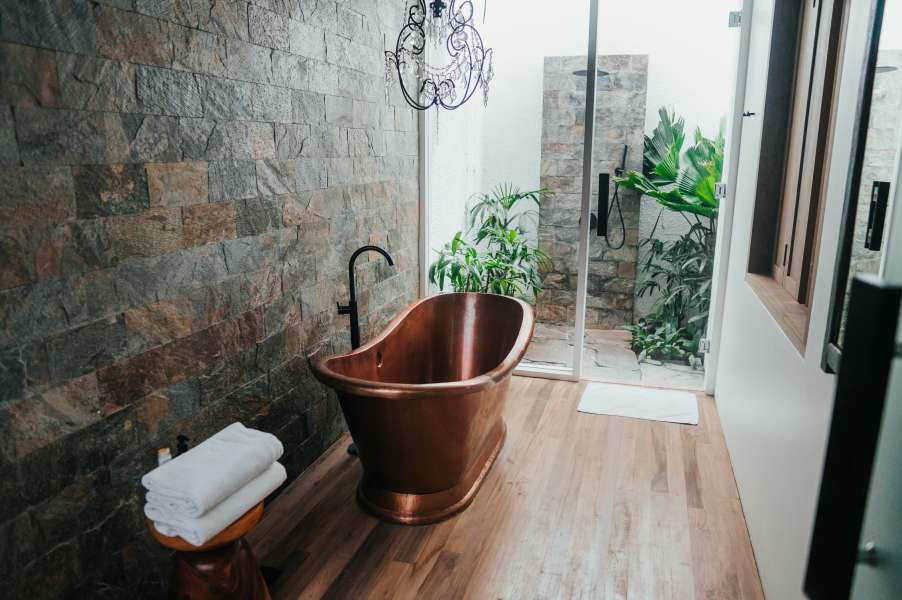 Another quick project that can help your bathroom feel fresh and new is to replace your towel hooks or bars and fixtures. Take a trip to a local hardware store or your favorite showroom to see what is trendy. A trend in cabinetry in general that we love in bathrooms is pairing white with matte black. This combination creates stunning minimalist aesthetics.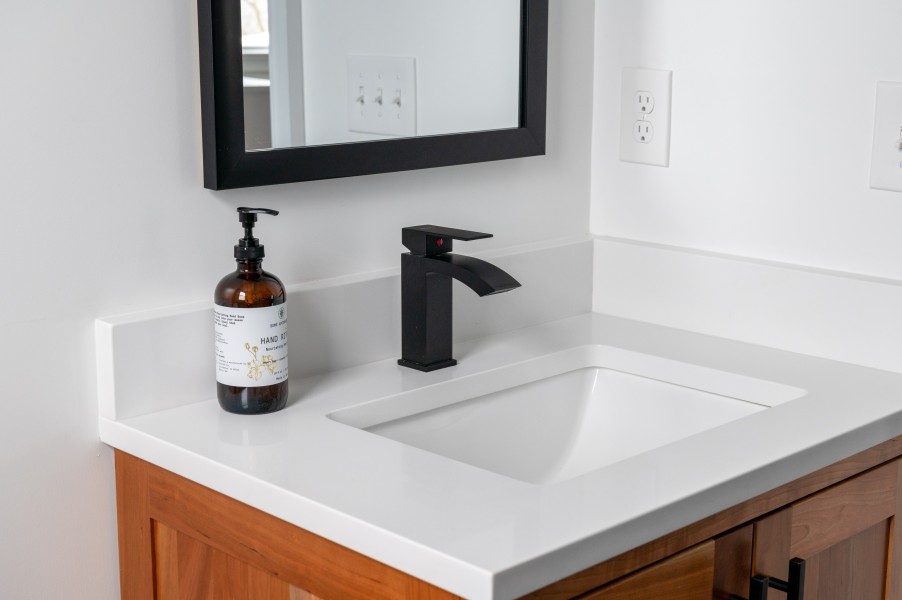 For a larger budget project, it would make sense to install a small bathroom vanity if you need to expand your storage options. Since they are available in custom sizes, finding the perfect size won't be an issue. For a more budget-conscious remodel, it would make the most sense to preserve the current vanity, since they can be a large portion of the budget. Instead, we could focus on creative storage ideas. Leaning towel racks, over toilet shelves, and other vertical storage options will be vital for any small bathroom.
---
Wrapping Up
Giving your bathroom makeover doesn't have to cost a fortune, as you can see there are several great, budget-friendly options. Don't forget to add some personal flavor to your space with decorative items!
If you are ready to start ordering or if you need assistance, please feel free to call us at 1-855-669-5222 or send us an email at info@cabinetnow.com. Our team of cabinet experts is here to help with everything from measuring to ordering.