Staining your cabinets is a quick way to give your space a completely new look. With a wide variety of sheens and colors available, you will no doubt be able to find the perfect one for you. Stain is a great way to highlight the natural beauty of the cabinet's wood, while at the same time protecting the surface. In this guide, we are going to take a quick look at the steps for staining your kitchen cabinets.
Staining wood can be a bit of a tricky process if you have never done it before. While a paint finish sits on top of the surface, the stain will soak into the grain of the wood. This is why you cannot stain manufactured materials like MDF or other plywoods. Before you start working, be sure you have a properly ventilated space to work and the appropriate safety equipment. You will also want to be sure you are working in the ideal conditions, which are around 70 degrees Fahrenheit with around 50-70% humidity.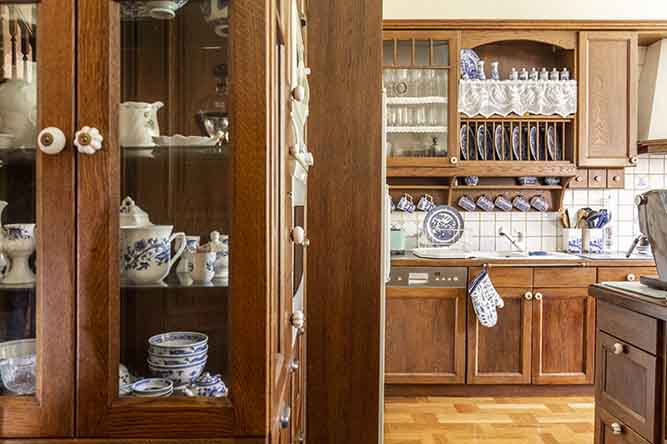 ---
Supplies Needed
The following list and steps are a quick look at what you would need for a smaller staining project. If you are planning a larger finishing, check out our complete guide on finishing cabinets, which includes product recommendations, professional advice, and more!
120 grit sandpaper
220 grit sandpaper
A paintbrush to apply the conditioner
A rag to apply the stain
Wood conditioner
Wood stain
Polyurethane
---
1. Sanding
The first step to ensuring that your stain sets evenly is to sand the surfaces thoroughly. You will need to start with around 100-grit sandpaper and work your way up to 220-grit. Be sure to inspect all surfaces before moving on to make sure there are no rough patches. After all the surfaces are sanded smooth, make sure you wipe them down to get rid of all the dust and debris.
---
2. Wood Conditioner
Before you can apply the stain, you need to put down a coat of wood conditioner. Wood conditioner is similar to primer for painting, as it creates an even base for the stain to on. After you apply the wood conditioner, you will need to wait at least 30 minutes for it to dry, but you should not wait longer than 2 hours to stain the surface.
---
3. Stain
Using your rag, wipe the stain along the grain to make sure you get an even coat. Any excess stain on the surface should be wiped off going in the direction of the grain as well. If you have the right conditions, your stain should dry in 1-2 days. During this time, it is important to keep air circulating, as this will help the stain dry and help with the odor. Also, be sure that no dust or debris settles on the doors, as these can become sealed to the surface.
---
4. Protective Clear Coat
Once your stain is dry, you will need to apply a protective coat of polyurethane. Before you apply the clear coat, you want to lightly sand the surface with fine sandpaper so that the polyurethane can cling to the door. Again, you will want to make sure your workspace has proper ventilation and is free of any dust or debris that could get on your doors.
---
Finishing Up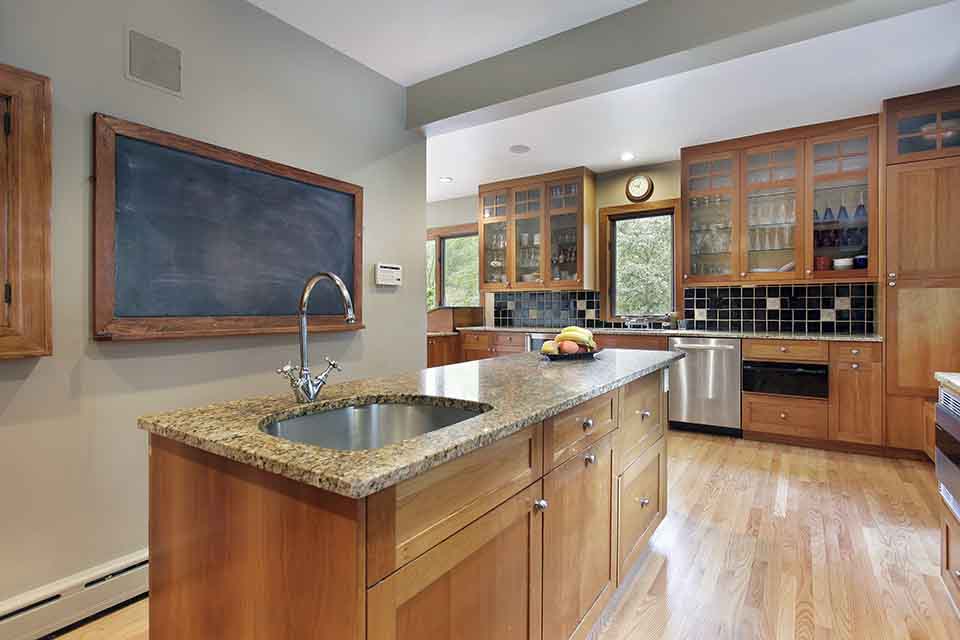 As you can see, staining your cabinets can be a tricky task. However, with a bit of practice, you can achieve amazing results. Staining your cabinets is a great way to introduce a new look to your kitchen without having to go through a major remodel.
If you are ready to get started or if you have more questions, feel free to give us a call at 1-855-669-5222 or an email to info@cabinetnow.com.