Posted by John C. on 2021-09-14
If you are tired of your cabinet doors and but don't have the budget for a major project, then ordering replacement cabinet doors may be for you. By keeping the base and wall cabinet boxes and just updating with new doors and hardware, you can achieve a completely new look for your kitchen. While this project may take a bit of time if it is your first time, replacing your cabinet doors, also referred to as refacing, is a relatively straightforward process accessible to homeowners.
While there are many other budget-friendly options for giving your kitchen a facelift, replacing your cabinet doors also has the potential to increase the value of your home, which is especially desirable if you are considering selling. Despite being a simple DIY project, there are a few items you will need to take into consideration. In this quick blog, we are going to take a look at what you need to know when ordering replacement kitchen cabinet doors.
---
Cabinet Door Materials
When selecting replacement cabinet doors you should be aware of the material used for construction. This is important because the material used can change your return on investment (ROI) or the location the door can be hung. For example, if you are choosing thermofoil doors, you will need a heat shield to be able to hang them near sources of high heat. Here is a quick breakdown of what each material has to offer as well as any drawbacks: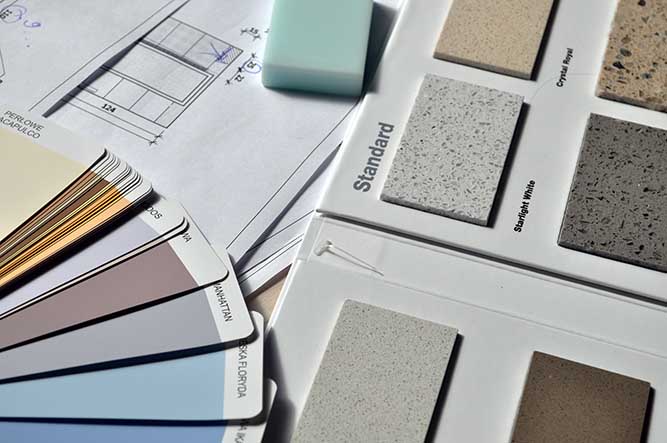 Solid Wood: Solid wood is a broad term for cabinets made out of wood, which can include countless species of trees. Solid wood cabinetry will provide you will the best ROI and tend to also last the longest. However, solid wood does have the drawback of being the most expensive option, and with custom sizing and designs available the sky is the limit for what can be done with solid wood cabinetry.
Thermofoil: Thermofoil is a vinyl laminate that is heated and pressurized onto a medium-density fiberboard (MDF) core. Thermofoil arrives fully finished, and so you won't have to worry about purchasing any paint or staining supplies. In addition, thermofoil is available in a wide variety of trendy color options such as sage green and navy. And so, thermofoil slab-style cabinets are perfect for full-overlay, modern kitchens. However, thermofoil does not last as long as solid wood cabinets nor does it add as much resale value.
Medium Density Fiberboard (MDF): MDF is an engineered composite wood that is easy to paint and resists warping or twisting at larger sizes. The main benefit of MDF is that it is a durable, budget-friendly option that paints very well.
---
Sizing Your Replacement Cabinet Doors
Once you have selected the material and style selected for your cabinet doors, you will need to size them. If you want your replacement doors to be the same size as your previous doors, then you can simply measure the width and height from outside edge to edge. If you are thinking of changing the look of your cabinet doors, then you will likely need to resize the replacements. This will be especially important if you are wanting to change from inset to overlay or vice versa. Typically, most US American kitchens will have face frame cabinets. This means that the doors can be mounted as a partial overlay, full-overlay, or inset:
Partial Overlays: Also known as traditional overlays, a partial overlay exposes the cabinet box's face frame around the doors and drawers. This is typically the most budget-friendly option for hanging cabinet doors; however, the partial overlay method is moving out of style.
Full Overlays: As the name suggests, full-overlay cabinet doors cover the entirety of the cabinet box's face frame. Full-overlay is ideal for creating modern aesthetics with seamless lines of cabinets. In addition, materials like thermofoil can replicate wood color and texture to continuous grain patterns.
Inset: While a traditional style, inset cabinets will likely never go out of style. These cabinet doors will be flush with the cabinet face frame, and so this style is only available on a face-framed cabinet box. However, inset cabinet doors take a great deal of accuracy when sizing and installing. In addition, they will likely need adjustment as the humidity and temperature fluctuate. For these reasons, inset cabinets carry the largest price tag.
---
Selecting Your Hardware
Selecting the correct hardware for your replacement cabinet doors is vital to making sure the fit is correct. At CabinetNow, we are able to pre-bore your cabinet doors for European and compact conceal style hinges. These provide a clean look with hidden hinges, but these kinds of hinges do take up space inside the cabinet box.
If your replacement cabinet doors are the same size as the previous doors, and you are using European or compact conceal hinges, then you likely will not have to replace your hinges. However, this is not always the case. You should verify that the size, overlay, and hinge will all work together before ordering.
In addition to hinges, you will also need to decide if you will be reusing your cabinet knobs and pulls or replacing them. The choice here will largely depend on how much you are changing the look and feel of your space. Be sure to take time to research cabinet hardware trends, so that you can find the perfect complement for your style.
---
Finishing Up
Replacing just your cabinet doors is a great way to give your kitchen a makeover without the price tag, time, and labor required for a complete remodel. In addition, depending on the material and style you choose, replacing your kitchen cabinet doors can increase the value of your home. If replacing your cabinet doors feels a bit overwhelming, giving your walls a fresh coat of paint can be a great way to change the look of a room without spending too much money.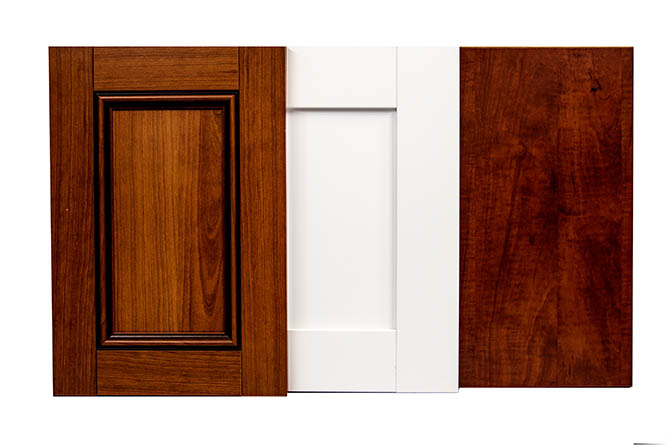 If you are ready to start ordering or if you need assistance, please feel free to call us at 1-855-669-5222 or send us an email at info@cabinetnow.com. Our team of cabinet experts is here to help with everything from measuring to ordering.