Measuring new kitchen cabinet doors is a quick and easy process. However, if you have never done this before, you may have a few questions. You may be wondering if you should use imperial or metric units, whether or not you should include the trim on the door, or how exact your measurements should be. If you are looking to get accurate measurements for new or replacement cabinet doors, you have come to the right place.
Really, there are two methods that you will be used to size your cabinet doors. The method you choose depends on whether or not the cabinet doors you plan to order will be the same size as your existing cabinet doors (if you still have them).
Precision is essential otherwise the new cabinet doors simply won't fit. Follow the appropriate method below, to ensure that you get the best fit possible.
Download the Printable Measuring Guide
---
Measuring Existing Cabinet Doors
If your new cabinet doors are going to be the same size as the old ones, then you are in luck. To get the size for the replacement, simply measure your existing door from outside edge to outside edge and record the measurements in a width x height format. You should take your measurements to the nearest 1/16th of an inch. Once you double-check your measurements, you are all done!
---
Measuring for New Cabinet Doors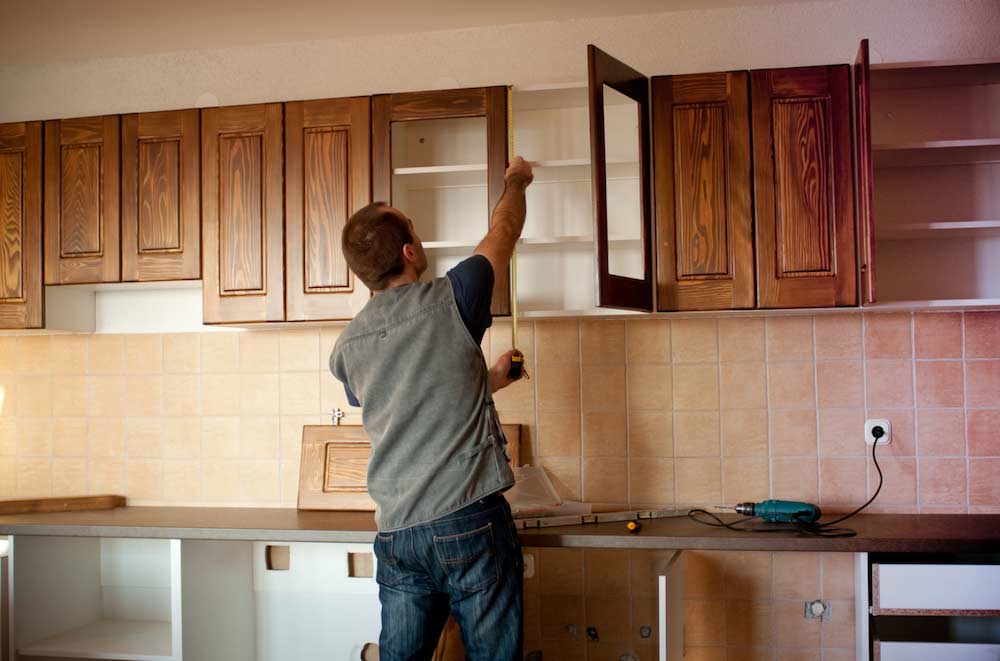 While not as easy as measuring an existing cabinet door, sizing new doors is not terribly difficult, but it will involve some math. First, you will need to measure the opening on the cabinet box that you intend to cover. Just like in the case of the existing door above, you should do your best to measure as accurately as possible and record it to the nearest 1/16 of an inch.
Once you have the box opening measurements, you will need to decide the overlay you want your cabinets to have. The overlay is the amount of the cabinet box that is covered by the cabinet door. For example, if our cabinet box opening was 15" wide by 22" tall and we wanted a ½" overlay, we would need to add 1" to the width and height. This way, you will account for the left and right sides, as well as the top and bottom. If your opening is wider and requires split doors to cover, check out our measuring page which features video tutorials.
---
Types Of Kitchen Cabinets
In addition, you will need to double-check that your intended sizes and overlay will work with your hardware, or you will need to source new hardware for the replacement doors. The type of cabinet box you have will determine your overlay options. Read on to learn the important difference between framed and frameless cabinets.
Framed Cabinets
Traditional cabinets have what is called a face frame. What this means is that when you open or remove the doors you will see a wood frame on the front. Commonly made of hardwood that is 3⁄4 inch thick, it will be covered in part by the edge of the cabinet door or drawer. The standard partial overlay is 1⁄2 inch all around, meaning the door must be 1 inch wider and 1 inch taller than the opening size. Some other typical overlay sizes are 1⁄4 inch, 5/8 inch, 3⁄4 inch, and 1 inch.
Frameless Cabinets
Sometimes referred to as full-overlay, frameless cabinets these commonly have sidewalls that are around 3⁄4 or 5/8 inches thick. There is no frame at all and the hinges for doors are mounted inside the cabinet wall. This means that you can only install your cabinet doors with a full overlay, as there is no frame to show. The biggest benefit of this style is that they have more storage capacity.
Two Other Important Factors to Consider:
If the cabinet has more than one door there must be sufficient space for two doors to open at one time. This means that a single door cannot cover more than half the thickness of the vertical frame stiles.
The hinges you use must be the right size for the overlay. Not only will you need the correct hinge for the overlay, but you will also need to consider the boring. It is important to double-check that the hinges, boring, and overlay will all work together.
---
Notes on New Cabinet Doors
Usually, cabinet frames are made with the same species of wood used for the cabinet doors. This can be very beneficial for getting a consistent color when using a stain. If MDF was used you can replace the doors with new MDF. You could also use wood doors painted to match the color of the frame. One important note on MDF is that you cannot stain it, so your options are a bit more limited.
For glass-paned doors, check the position of the horizontal mullions compared to the shelves in the cabinet (if there are any). If they don't line up you'll see this from the outside and may want to change your plan.
---
Draw What You Measure
You don't have to be a draughtsman or architect to draw a rough layout of your kitchen cabinets. It doesn't even have to be to scale – but the measurements you note must be accurate. Also, note the size of the horizontal rails and vertical stiles that make up the cabinet frame.
Once you have this information on paper, re-measure to ensure the dimensions noted are correct. Then you can assess whether you have to stick to the same size cabinet doors you currently have, or whether you can alter the overlay dimensions.
---
Final Tips On Measuring Cabinet Doors
One easy way to get the process started is to measure with your smartphone. If you have a new Apple or Android device, there are measuring apps that you can get. These apps use augmented reality (AR) technology to create a digital tape measure. For Apple users, newer iPhones come with the Measure app installed. If you have an Android phone, there are many apps available through the Google Play store. While these apps are very useful and have come a long way, they are not always 100% accurate. It is important to always double-check your measurements with a tape measure or ruler. Hopefully, you now feel confident in your abilities to accurately measure your cabinets. If you are still feeling unsure about your measurements, feel free to reach out to a member of our highly skilled sales team who can help you measure.
If you are struggling with getting started, or you have a list and are ready to talk style and material, feel free to give us a call at 1-855-669-5222 or an email to info@cabinetnow.com. Our well-trained sales staff can help you with everything from measuring to ordering.