Ordering custom cabinets online can be a convenient and cost-effective way to get the perfect cabinets for your home. Once you've made the purchase, there are several steps to follow to ensure a smooth post-purchase process. In this blog, we will explore how ordering face frame and frameless cabinets online works and the steps to take after receiving your shipment.
Shipping & Delivery
When ordering cabinet boxes online, the size of the pallet your parts will be shipped on depends on the specifics of your order. For example, if you have tall cabinets, pantry, linen, or tall slab end panels, or if you requested toe kick material or tall fillers for Frameless cabinetry, your order will be shipped on either a 46.5" x 98" or 35.5" x 95" pallet. Smaller orders may be shipped on a 31" x 63" pallet.
Handling Pallet Delivery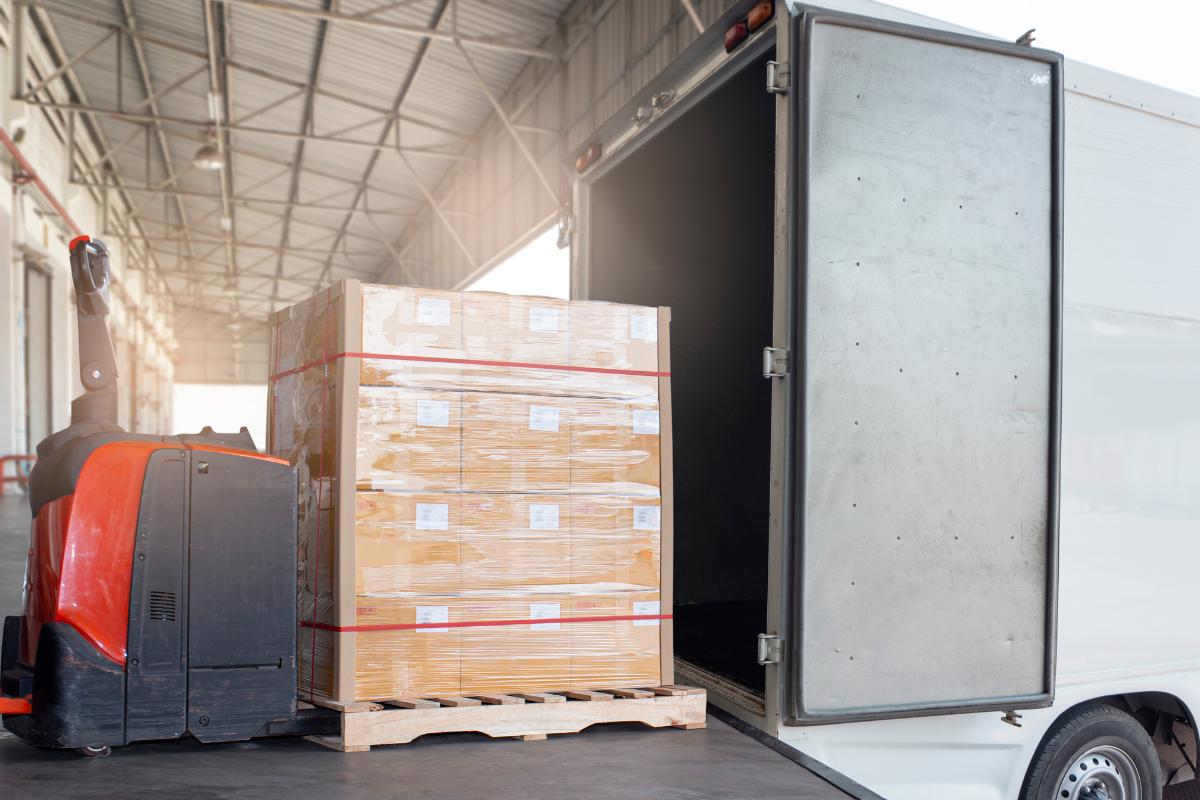 If you do not have a fork truck with long forks or fork extenders, it is suggested that you consider having the pallet delivered to your local FedEx terminal and picking it up from there. They will assist in setting the pallet on your trailer or into your truck bed.
Unpacking & Checking Cabinet Components
As soon as your cabinet parts arrive, it is crucial to unpack and check all the components to ensure nothing is damaged or missing. This step gives you time to request replacements for any damaged or missing parts before you need them for assembly. Make sure to check for accurate quantity, sizing, material, finish, edge banding, prebore, and any signs of damage. We recommend checking your cabinets for all components at least 2 weeks prior to any scheduled work surrounding your project such as flooring, countertops, backsplash, and plumping/electrical work.
Download our cabinet checklist to ensure you have checked off everything to look for!
Additional Items to Order for Assembly
Face Frame Cabinets
*If applicable- some orders may have hinges and glides included *screws not included*, otherwise these are to be purchased separately
See our assembly guides to learn more. If you have a problem with your order please fill out our problem order form and our operations team will contact you immediately.
Frameless Cabinets
Hinges are included in the purchase. However, *these supplies are NOT included*
See our assembly guides below to learn more. If you have a problem with your order please fill out our problem order form and our operations team will contact you immediately.
Storage Solutions
Instead of stacking the cabinet parts against a wall, which can create a cluttered workspace, consider making or purchasing mobile carts to store the parts. These carts can be easily moved around, providing easy access to the parts or keeping them out of your way until needed. This option helps to maintain an organized workspace during the assembly process.
Typically, these carts filled with parts will take up no more room than the original pallet/box, so investing in the carts has no significant downside.
*Be sure to check the dimensions of the cart to ensure your cabinets uphold.
Sorting Cabinet Components
The upside of unpacking and checking the cabinet parts is not only checking them but also sorting them. Ideally, you should sort the components by cabinet number found on the sticker of each cabinet component. Sorting them in this manner will make the assembly process easier and quicker.
Here is a beneficial article for "Sorting Your Cabinet Components" which provides a more detailed look at this sorting process.
Assembly
Assembly Process for Face Frame Cabinets
Assembling face frame cabinets can save you up to 70% of labor costs with ready-to-assemble (RTA) cabinets. You can find in-depth assembly guides for various types of face frame cabinets, such as upper cabinets, pantry cabinets, vanity cabinets, and more. Additionally, guides for installing drawer slides, drawer boxes, and fronts are available to help you with the assembly process.
View all of our assembly videos here.
Assembly Process for Frameless Cabinets
Assembling cabinets yourself can save you up to 70% of labor costs with our ready-to-assemble (RTA) cabinets! I have provided these in depth assembly guides to watch and read how the process works.
Gluing VS Screwing Together Frameless Cabinet Joints
Gluing Joints:
Whether you need to glue the joints depends on whether you choose to use Integral Finished Ends or Applied Finished Ends. If you use Integral Finished Ends, it is recommended to use a PUR glue (such as Gorilla or Titebond PUR) in each female Lamello clip. Gluing the fastener ensures a strong bond and prevents the fastener from coming apart. If you choose Applied Finished Ends, you do not need to glue the cabinets together as they can be screwed together. Even if you use Integral Finished Ends, you can skip gluing the unfinished ends and opt for screwing them together.
Recommended Screw:
If you choose to screw the cabinets together instead of using glue in the Lamello fasteners, the recommended screw is the Hafele 010.72.950 screw. It is a #6 X 1-3/4" screw with countersinking nibs on the head, a self-cutting tip, and is available with a Square or Phillips drive. It comes in either a Black Oxide or Zinc-plated finish. A #6 screw is a better choice than a #7 or #8. Both will telegraph the screw thickness on particle core material on occasion, and there is always the potential of knifing open of a panel when using a larger shank screw.
Base Diagonal and Piecut Corner Cabinets
Why are there 15mm holes in the bottom of my Base Diagonal and Piecut Corner Cabinets?
Reason for the Holes:
The holes are present in the bottoms of these specialty corner cabinets for several reasons. From the manufacturing perspective, the cabinets can only be machined on one side. However, leg levelers require a 15mm hole to attach the legs, and the backs of the cabinets also need to be grooved. To solve this issue, the cabinets are through-bored for the leg leveler holes, allowing them to be used from the exterior face of the cabinet. This way, the difficult-to-reach back leg(s) can be adjusted from inside the cabinet using a long Philips head screwdriver inserted through the hole.
Covering the Holes:
Once the cabinet is leveled, an 18mm peel and stick FastCap can be used to cover the holes.
Pie-Cut Corner Cabinet Assembly
Assembling a Cabinotch Base Piecut Corner cabinet is similar to assembling any other Cabinotch Full Access Frameless Base Cabinet. The difference is that the Piecut Corner cabinet has a two-piece top and bottom.
This design allows the tops and bottoms to be edgebanded on an automatic edgebander, resulting in better-looking glue lines and superior glue adhesion. The two parts of the top and bottom are joined together by applying PUR glue to the female Lamello and snapping the two parts together. It is generally okay to assemble the cabinet even if the glue is not dry, but it is recommended to let the glue set for a couple of hours before putting stress on the joint.
Adjustable Shelves: If adjustable shelves are chosen instead of Lazy Susan units, the joint between the two parts that make up the L-shaped adjustable shelf should be glued with PUR glue. The glue should be allowed to set completely before installing the adjustable shelves in the cabinet. The X-Ray view lets you see through the parts so you can see the machining.
By following these steps and utilizing the provided resources, you can efficiently and successfully assemble your custom cabinets after ordering them online. With careful unpacking, sorting, and using the right assembly guides, you'll have your dream cabinets ready to enhance your living space. If you are ready to get started please fill out our custom cabinetry request form or contact us for any questions!