Cost and Customization for Replacement Cabinet Doors
Sometimes, you want to give your kitchen a new look, but you are not interested in a major remodel or any demolition. At CabinetNow, we can provide you with replacement cabinet doors, whether it is one or one hundred. Just buying new cabinet doors, known as refacing, is a cost-effective way to upgrade your kitchen.
Before we get into the exciting customizations available, I am sure you want to have an idea of what this will cost. The exact costs for your cabinetry refacing project will vary depending on your area, the quality and quantity of materials used, and whether or not you hired professional assistance. In this article, we are going to take a look at everything you need to replace your kitchen cabinet doors.
---
Average Cost Of Material
The cost of your materials will depend on how much of your hardware you are re-using, how many cabinet doors and drawer fronts you need, and how you want your cabinets finished. For example, if you are interested in clear or stain finishes, then you will need to have a higher budget for materials. This is because these finishes work best with woodcuts that have even and pronounced grain patterns, which tend to be more expensive.
Alternatively, painting your cabinets yourself can help you save both labor costs and material. While it cannot be stained, MDF is a great option for painting, plus it is a budget-friendly material. Be sure to keep this in mind, so that you can plan out what is on your "can't live without" and what could be cut to make room in the budget.
---
Installation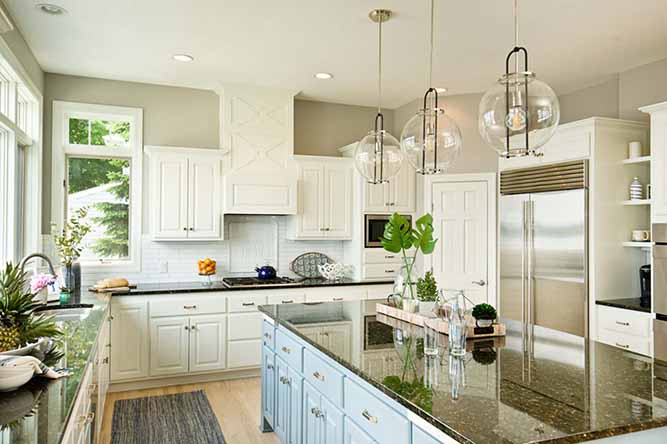 When it comes to installation, the difficulty will depend on whether or not you are changing out the hinges. If you are ordering your doors pre-bored and are using the same hinges, then it is just a matter of taking one door down and screwing the other into place. If you are also replacing the hinges, then you may need some assistance with properly attaching and adjusting the new hinges.
If you choose to hire professional help, you will have the benefit of knowing the job was done right without you having to do the work. The final costs for professional installation will vary depending on your location and the number of people hired, but an average breakdown looks like the following:
Laminates: $80- $120 per linear foot
Veneers: $80-$120 per linear foot.
Hardwoods: $150- $250 per linear foot.
The DIY Route
If you do choose to tackle this home improvement project yourself, you will need to budget for a few tools if you don't already have them. Many hardware stores will often rent equipment if you are not ready to buy it, but these are great for any DIY toolbox and are worth the consideration:
4-in-1 Screwdriver
Cordless Drill
Boring Tool (If you will be boring for hinges on site)
For these items, you will want to be between $100 and $200. This cost will vary depending on whether you rent or buy, the brands chosen, and if you buy new or used.
---
Cabinet Door Customizations
Now that you have an idea of how to calculate a rough budget for your refacing project, let's take a look at our customization options and how they affect your budget. First, we are going to go over the construction materials offered here at CabinetNow:
Wood Species and Material Options
We offer a variety of material options for our cabinet doors. These include both solid wood offerings such as Alder and Maple, as well as medium-density fiberboard and thermofoil products. As stated above, your material choice will likely be influenced by your desired style. For example, we offer our Shaker Cabinet Doors in a paintable MDF panel with a solid wood frame, which is a great choice for a contemporary, painted two-tone look in your space.
If you are interested in matching the wood species of your cabinet boxes to your new replacement cabinet doors, then you will need to take a sample to a local lumber yard. It is best to examine the sample in person to best determine the wood species.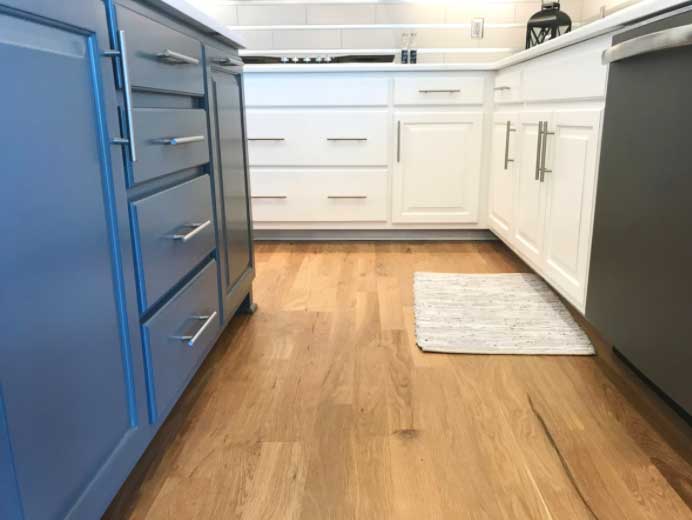 If you aren't interested in finishing the cabinets yourself, then you may be interested in our thermofoil product line. Thermofoil is a vinyl laminate that is heated and pressurized onto an MDF core. It arrives fully finished, so all you will have to worry about will be boring and mounting. However, you can have your thermofoil doors pre-bored by us, so they arrive ready to go. Thermofoil is available in a wide variety of colors and textures, making it a perfect choice for modern spaces.
Inside and Outside Edge Options
In addition to our material offerings, we are also able to provide slight customizations to the inside and outside edges of your door. This allows you to get creative with a unique new design, or change a door that is "almost right" to "just right" with the easy-to-use outside edge drop-down menu found on most product pages.
Glass Panels and French Lites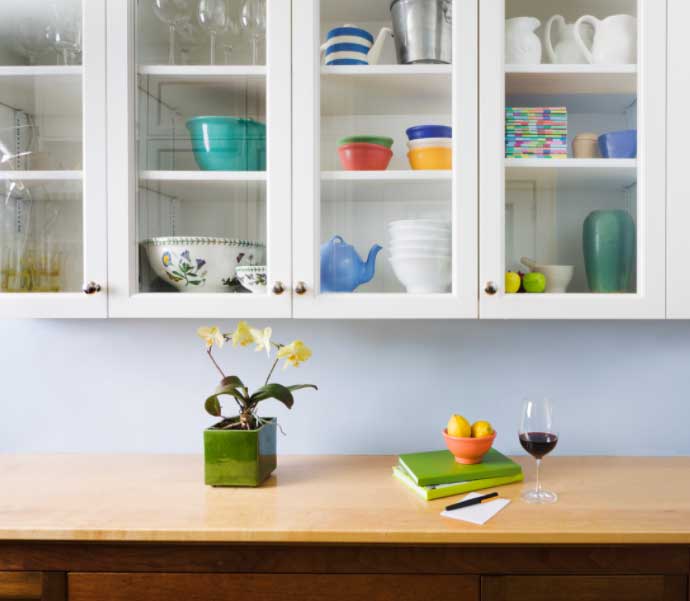 Another way to add an element of style to your kitchen design is to include glass panel cabinet doors. Whether you choose to do the whole kitchen or just a few doors, adding glass panels can help brighten your kitchen and give it a greater sense of depth. To emphasize this effect, consider adding lighting around the room so that all the now visible back corners can now be seen.
Nearly all of our cabinet doors can be modified to accept glass panels. We also offer the option to have 4, 6, or 8 French Lites. In addition, your glass panel door can be ordered with the rubber stops, so if you already have the glass you will be ready to get started.
---
Finishing Up
And there you have it, you are ready to order your cabinet doors today! It is always important to start any project off with a solid plan. The best way to get the ball rolling on your cabinet refacing project is to start to plan your hypothetical budget. For these, I like to exaggerate the budget, so that I know if something does go wrong, it won't put the whole project in the red. You can also plan around with free kitchen design programs online to get the creative juices flowing!
If you are ready to start ordering or if you need assistance, please feel free to call us at 1-855-669-5222 or send us an email at info@cabinetnow.com. Our team of cabinet experts is here to help with everything from measuring to ordering.