DIY Your Bathroom: How To Update Ikea Bathroom Cabinets
Your bathroom is one of the most critical rooms within the home. To leave it with limited functionality isn't fair to you or your family. When designing a bathroom, you must consider the layout, space and cost. A bathroom remodel can cost from $6,000 to $16,000 on average. When you choose an Ikea bathroom, however, you can keep your remodeling project cost on the low end.
---
Why Should You Renovate Your Bathroom?
Is your bathroom limiting? The purpose of bathroom renovations is to take your bathroom and create a more livable and functional space. For example, bathrooms with minimal storage are difficult to keep organized. You may have to store bathroom items in other areas of your home, such as the pantry or garage. Having limited storage in your bathroom can be frustrating and alter the functionality of the space.
When you update the bathroom, you create not only a more functional space but a more aesthetically pleasing space, too. Your bathroom is one of the most-used rooms in the entire house. You use it, your family uses it and in many cases, your guests use it too. Your bathroom should have a cohesive design that looks good. In addition to adding value to your family, a bathroom renovation also adds value to your home in a similar way to a kitchen remodel.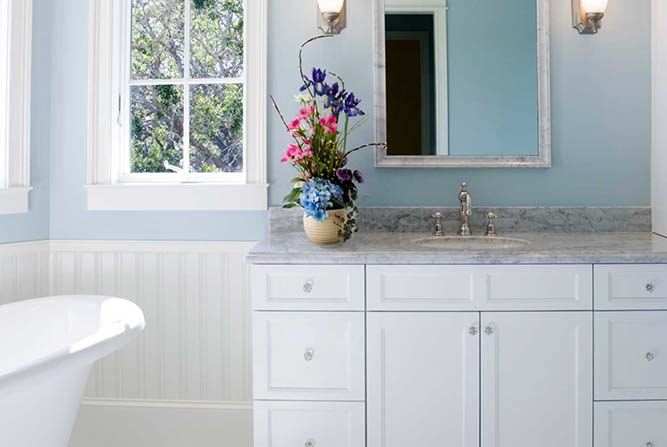 Some people shy away from bathroom renovations because of the cost and the work. However, the price of an Ikea bathroom is much more affordable than many realize. The cost and work it takes to create your dream bathroom are fulfilling and worth it.
---
What Advantages Do Ikea Cabinets Offer?
Ikea may not be the first company that comes to mind when you want a custom bathroom. However, you may be surprised to learn that Ikea cabinets are versatile and structurally sound and can be customized. Look at our cabinet door styles that can fit the Sektion system. We pre-measure every cabinet within the line to ensure that we have doors that can fit each one. If you know the dimensions of your cabinet, you can easily choose the right door size and be assured it will fit. This way, you can add our custom cabinet doors to your Ikea cabinet boxes for a stunning, custom look.
Ikea Cabinets Have Multiple Options
Your bathroom design depends on your taste, family size and storage requirements. Ikea offers various options, including size, style and color variants. Contemporary, traditional, and minimalist designs are all available within the Sektion system.
Ikea Cabinets Deliver Quality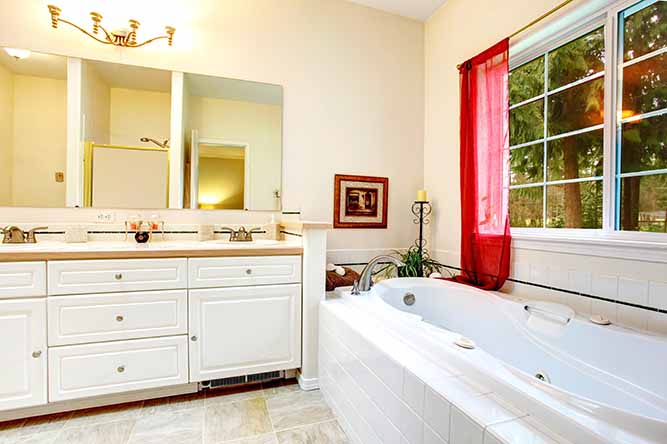 Ikea has over 50 years of experience in developing cabinets for renovation jobs. When you see the affordable price point of Ikea cabinets, you may worry that an Ikea bathroom won't have the same structural stability as more expensive options. The truth is that these cabinets are structurally sound and come with a 25-year limited warranty. You can expect your cabinets will last you a long time.
Ikea Cabinets Provide Plenty of Storage
Ikea cabinets have different options for storage space. For instance, you can choose a basic cabinet under your sink with two doors and no shelves, or pick a wall cabinet with two doors and multiple shelves. Bathroom cabinets also range in height, with tall cabinets for linen storage and shorter cabinets for toiletries.
Ikea Cabinets Make It Easy To DIY
If you are trying to save money, you probably want to do much of the work yourself. It could be difficult to DIY the project if you have custom cabinets. You are more likely to need the help of professional installers. The Ikea brand is user-friendly and has instructions to help install the cabinet boxes in your bathroom.
Refacing a cabinet might sound like a lot of work. However, refacing Ikea cabinets is as simple as removing one door and replacing it with another. All you need is the correct measurements and a few simple tools.
---
How Do You Make a Custom Ikea Bathroom?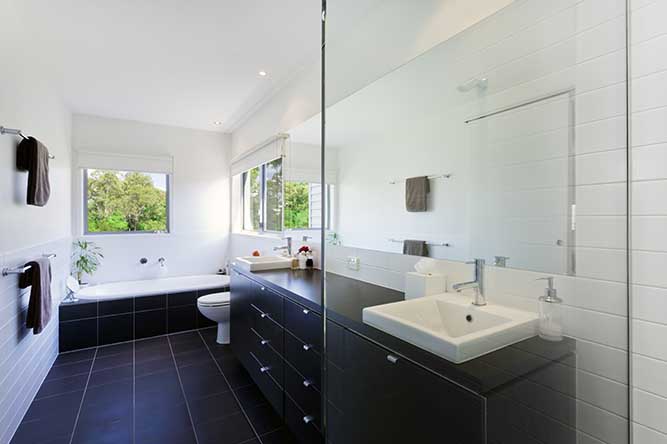 Ikea can deliver modern cabinets at an affordable price. If you cannot afford frameless or custom framed boxes, Ikea is an ideal alternative. Once you have the boxes, you can choose alternative cabinet doors to create the high-quality, custom look you want.
Start With Measurements and Design
Before refacing your Ikea cabinets, measure the bathroom and plot it out. You can use our kitchen measuring guide for this part, just ignore the kitchen specific instructions. Always measure twice to ensure you have accurate measurements. You can pair with a designer to help plot your floor plan if necessary.
Decide on Door Style
Once you have your dream bathroom planned, you can start your search for the perfect doors and drawer fronts. There are various options available, depending on your style and taste. For instance, we have unfinished wood, MDF, and laminate cabinet doors. For Ikea cabinets, we even offer our modern thermofoil cabinet door styles.
When remodeling the bathroom, most people want a new and unique look. Custom cabinet doors completely change the style of the cabinets, making for an Ikea bathroom with its own unique style. As the most visually obvious part, the doors are what draw the attention. Even if the cabinets are Ikea models, guests will notice the doors instantly.
Install the Doors
Once you know the measurements and style of the doors you need, you can order them. Prepare the cabinet by removing the doors and unscrewing the hinges. You can reuse the hinges with the new doors or use new hinges. With clear, helpful instructions, you can easily install the doors yourself. Once you have the doors installed, you can add new hardware.
---
Use Our Doors To Complete Your Ikea Bathroom Project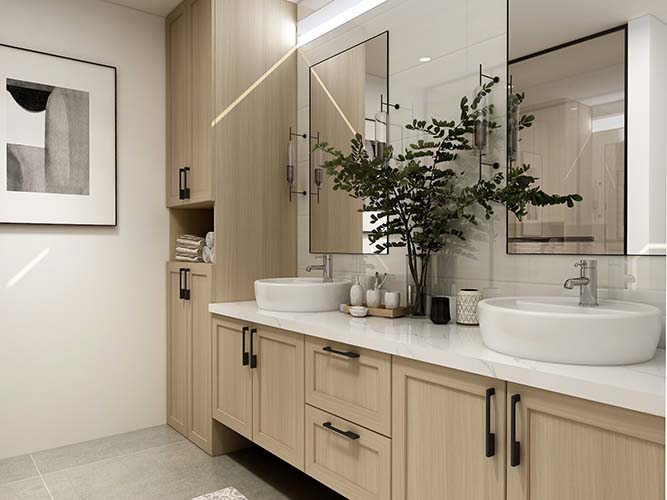 At CabinetNow, we understand how important it is for you to have a functional bathroom without emptying your wallet. Fortunately, it does not have to cost you a fortune to update your bathroom and add value to your home. With the right choices, your remodel project can pay for itself. When looking for affordable, customizable options, consider an Ikea bathroom. With our offerings, you have the power to personalize the general look and feel of your doors. Contact us today for more information on how to update your bathroom.
If you are ready to start ordering or if you need assistance, please feel free to call us at 1-855-669-5222 or send us an email at info@cabinetnow.com. Our team of cabinet experts is here to help with everything from measuring to ordering.