Are you tired of your kitchen feeling dark and dull? Then it must be time to upgrade your kitchen to a brighter setting! The Ferowich family in their Chicago suburb home used our Revere cabinet doors to brighten their kitchen. They took out the dark warm undertones from their wooden arched cabinet doors and replaced them with cleaner, more sleek cabinet doors with a square panel.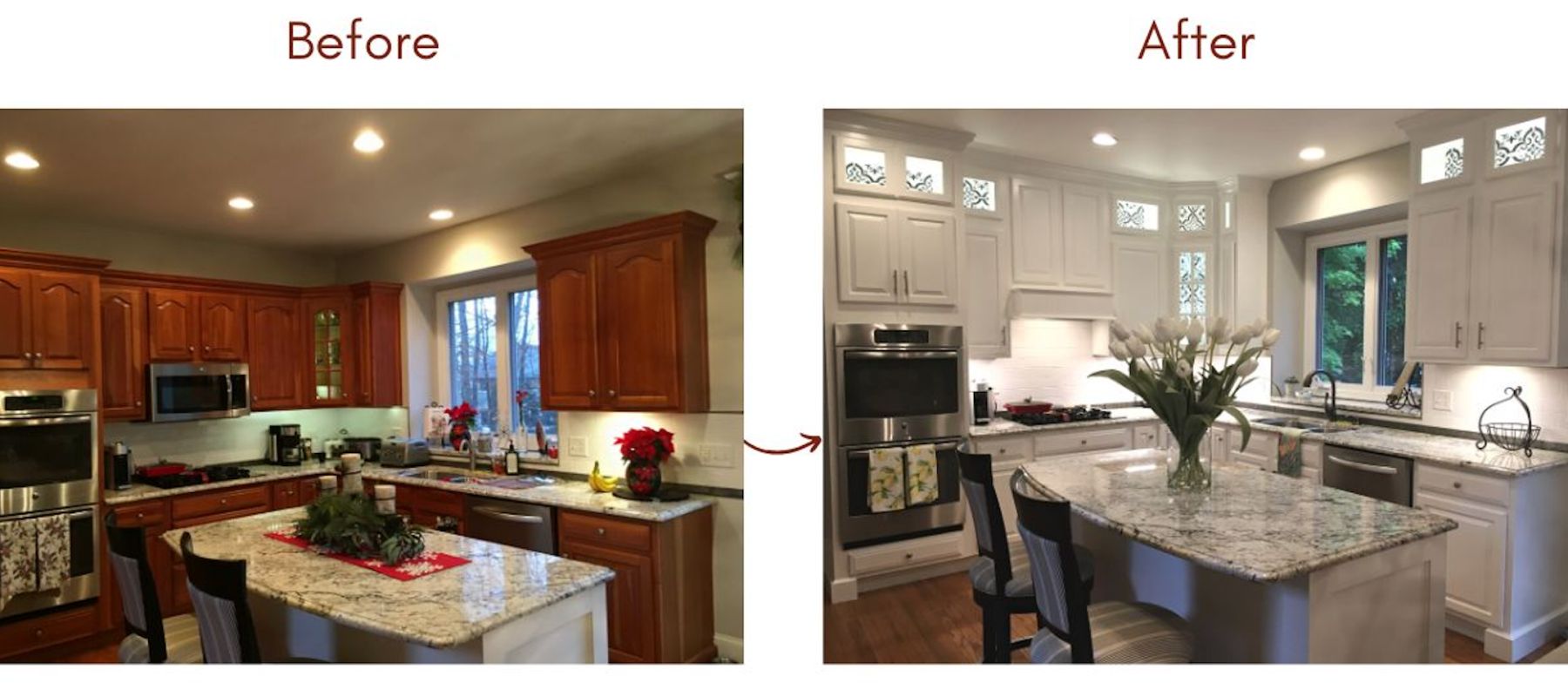 This beautiful renovation embellished their kitchen by bringing out their granite countertops and complimenting their silver appliances flawlessly. Get Inspired with these before and after photos from the Ferowich family! Follow along for some tips about how you can do the same.
---
5 Best Tips to Brighten Your Kitchen
Changing darker wooden cabinets to white cabinets can completely revamp your kitchen to look and feel modernized and rejuvenated. Not to mention, increasing the amount of light in your kitchen can give the illusion of a larger space, which can make it feel and appear more open.
The Ferowich family not only brightened their kitchen with cabinets, but also used other fascinating strategies that illuminated their kitchen atmosphere. You won't believe how easy it is to brighten your dark kitchen with these five illuminating tips.
1. Reface and Paint Your Cabinet Boxes
The Ferowich family achieved their kitchen remodel by refacing their existing cabinet doors and drawer fronts using our unfinished Revere cabinet doors, and they painted the new fronts themselves. Ordering your new cabinet fronts and painting them yourself is a great DIY project that can help you save during your refacing project.
Refacing your kitchen cabinets is quite simple and saves a load of money and time. It just requires you to remove your existing cabinet doors and drawer fronts to replace them with new fronts using your existing hinges, cabinet boxes and drawer boxes. You will also need to refinish your cabinet boxes to match the new fronts.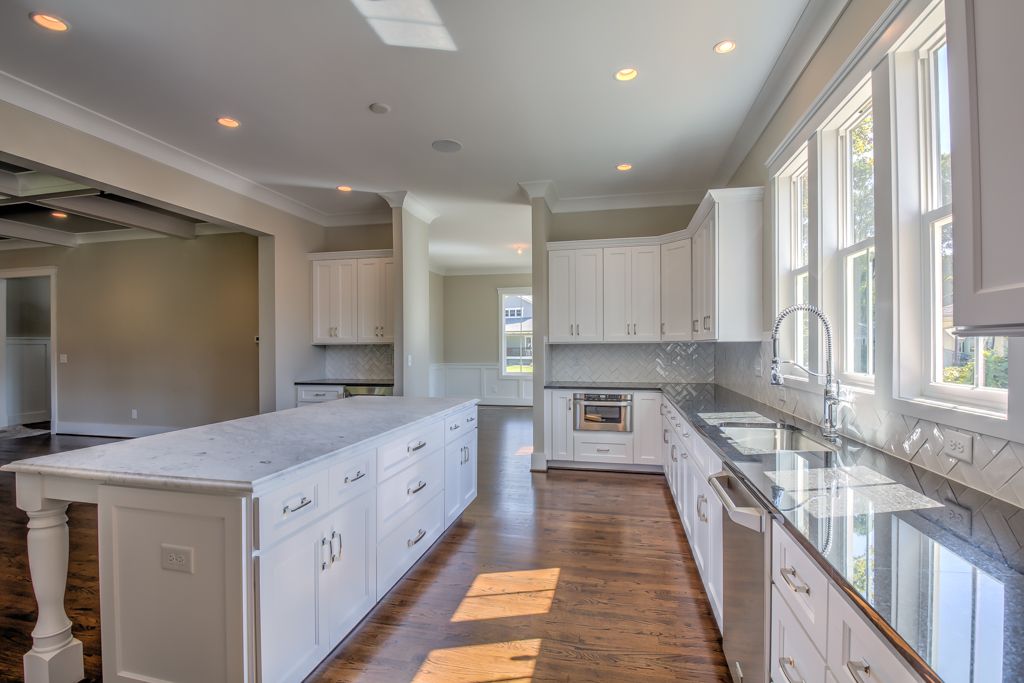 It is a perfect project if you want to freshen up your home, and you don't need to go through all the work of gutting out your kitchen cabinet boxes! CabinetNow specializes in custom cabinets, so when refacing your cabinet doors and drawer fronts, you can choose to purchase a variety of finishes and styles.
Finishes
Description
What it is used for
Cost (Varies based on style of door)
Unfinished

Bare wood or MDF(Medium Density Fiberboard, it is manufactured like particle board but 3x denser)
No paint, prime, stain, or vinyl

$-$
Primed

Coated with two coats of white primer
White primer is water based and solvent based

Ready to paint projects
DIY
Contractors

$
Finished

Wood door that has a coat of paint, stain, vinyl, or other material

$-$$
Thermofoil

Type of finished door
Vinyl laminate that is heated and pressurized onto an MDF core
Cannot be stained or painted
Resembles wood, marble, or granite

Ready to install
More affordable finished door option

$-$

Matching Door Color to Your Cabinet Box
When refacing your cabinet doors and drawer fronts, you may be wondering how you would match the doors to your cabinet boxes. Well, it first depends on what type of cabinet doors and drawer fronts you are looking for.
If you purchase our finished doors, you can go to your local Sherwin Williams to find the shade that matches with our select Sherwin Williams approximate color matches.You can also take a sample of the color to most paint stores to have the color matched.
If you purchase our thermofoil doors, we sell laminate sheets that match the same material that you can use to adhere to your existing cabinet boxes for the perfect match.
If you purchase our unfinished or primed doors, you can choose your own paint color separately from your local paint store and paint all of your existing cabinets for a fun DIY project!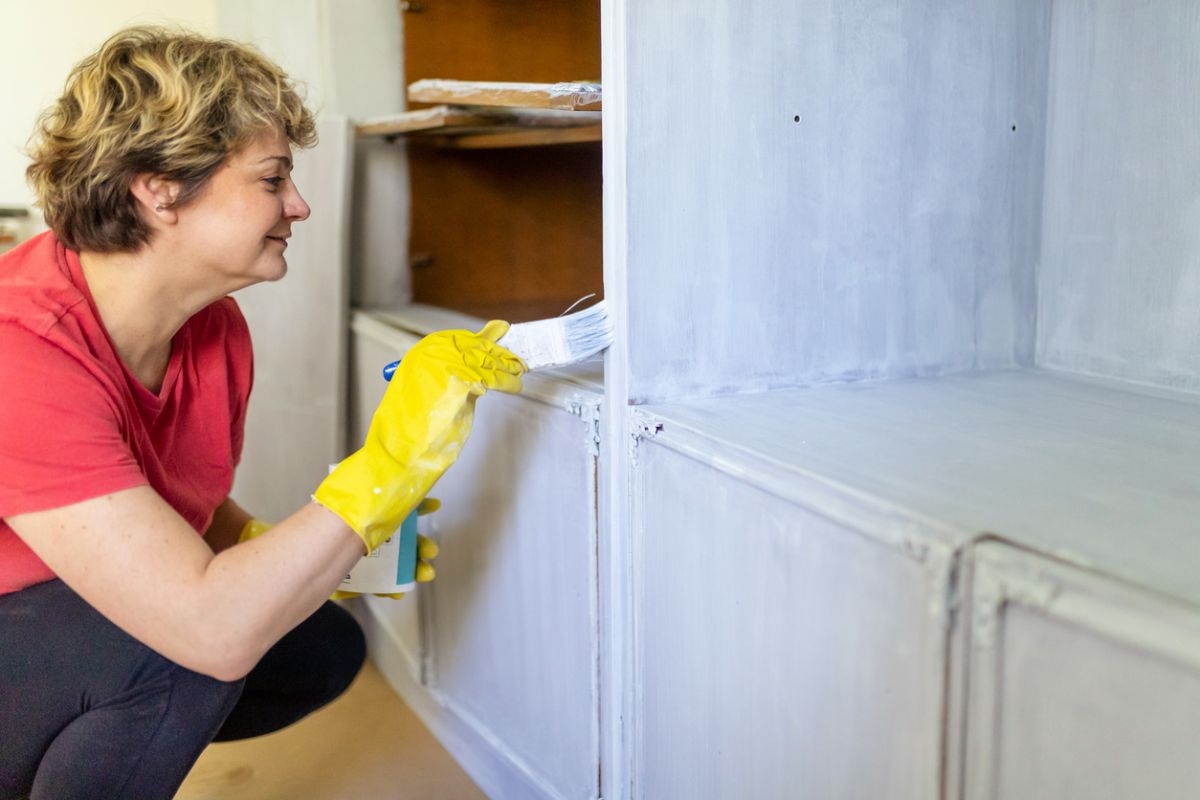 The Ferowich family got their project started by purchasing unfinished Revere Mitered 3/4 cabinet doors with a MDF panel and paintable hardwood frame to paint themselves. They painted their cabinet boxes the same color white to complement their doors.The Revere offers a raised panel accented with a concave inside edging, crafted border, and a stylish outside edge. Available in a wide variety of quality solid woods, you will no doubt find the right option for your kitchen remodeling project. Add a few Revere glass cabinet doors to take your kitchen design to the next level.
2. Choose a Light Color
While the Ferowich's DIYed their project to brighten their dark kitchen, there are many ways you can complete a refacing job if you desire already finished cabinet doors and drawer fronts.
If you need a better option for convenience, you can purchase finished wood cabinet doors or laminate thermofoil doors in select light colors. CabinetNow offers a variety of colors and samples to choose from.
Wood Light Colors
For our premium wood cabinet doors, you can choose between our selected approximate match Sherwin Williams light colors including:
Extra white(SW 7006)
Pure white(SW 7005)
Creamy(SW 7012)
Alabaster(SW 7008)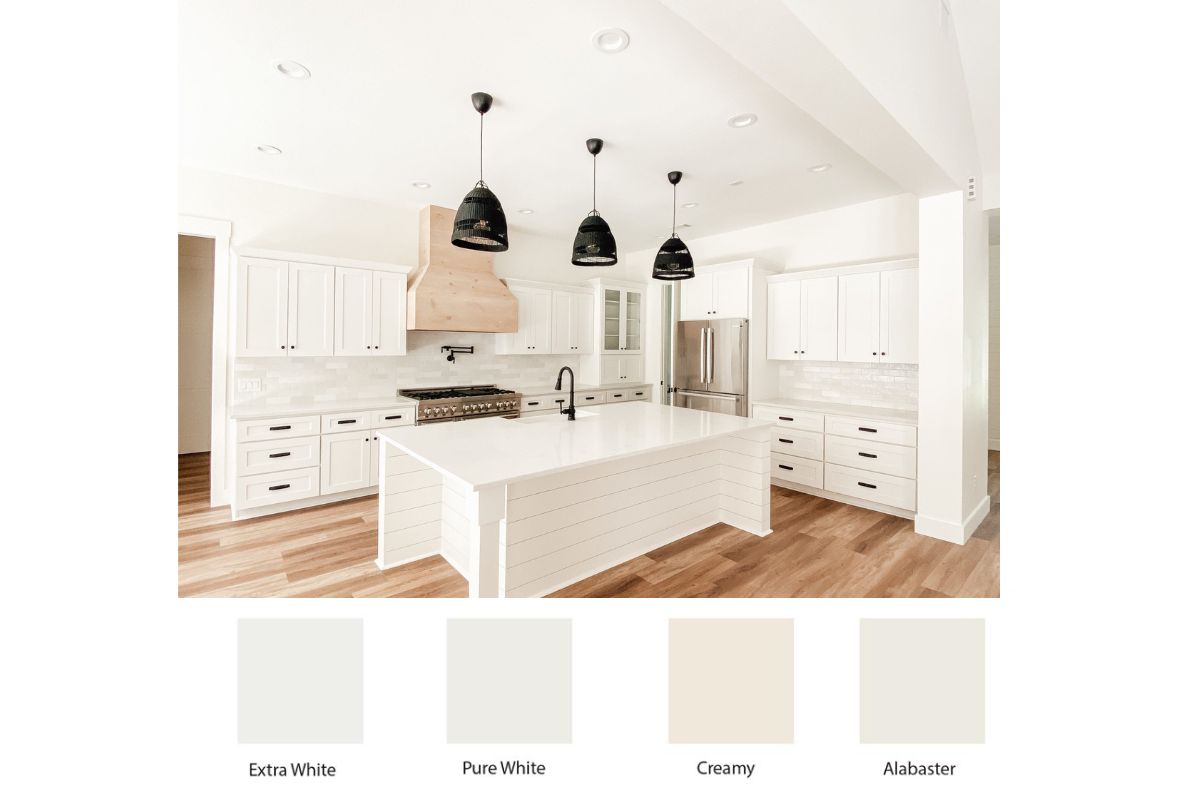 Each color is a gorgeous option for brightening kitchen cabinets and Sherwin Williams is top quality to ensure your cabinet doors and drawer fronts last for years.
Thermofoil Light Colors
The thermofoil white series is a stunning choice for illuminating your kitchen cabinets. Additionally, thermofoil doors are a great money saving choice compared to the finished wood cabinet doors and are still of high quality and durable for cabinetry projects. Thermofoil doors and drawer fronts have a beautiful exterior that are easy to clean and do not easily chip or scratch. They are a special type of cabinet door made with a vinyl laminate that is heated and pressurized onto an MDF core.
We offer classic shades of thermofoil doors and modern thermofoil colors that portray a modernized aesthetic. The classic thermofoil doors and drawers offer a white series including:
949 White
Snow White
Satin White
Frosty White
Bisque
Heirloom White
Feather White Suedette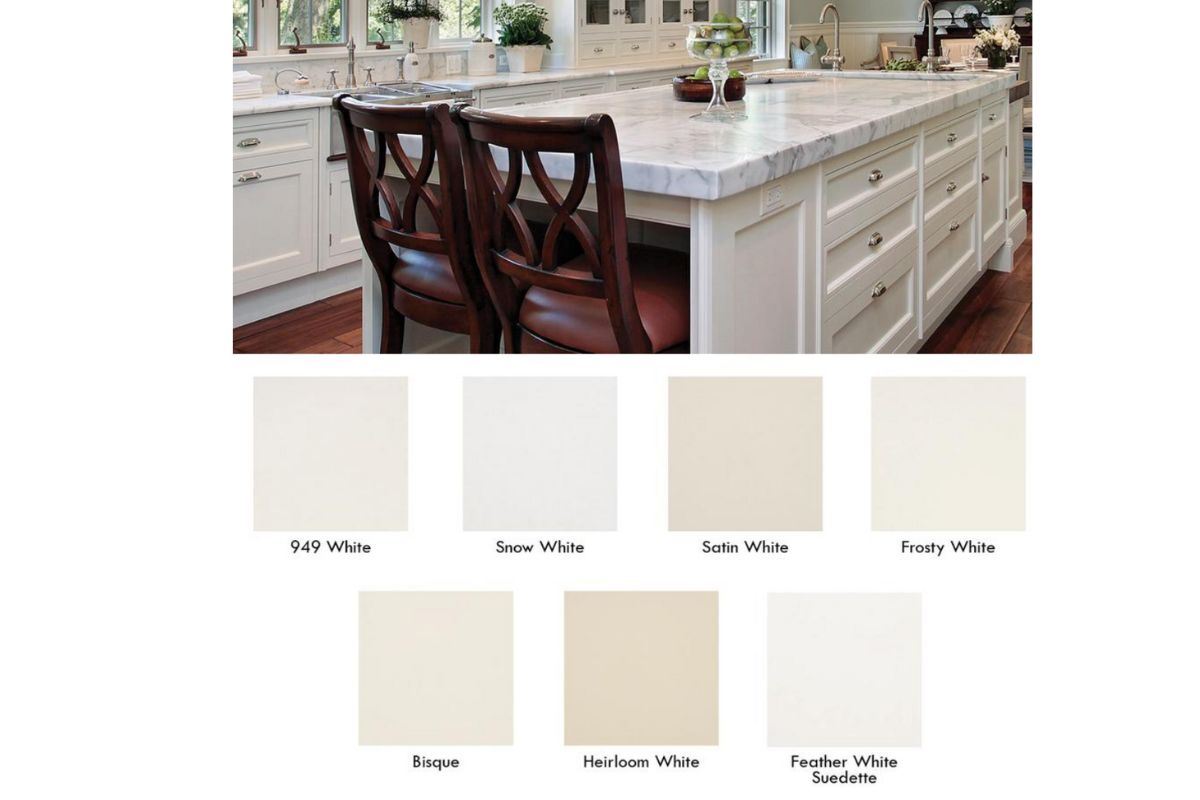 The modern thermofoil doors and drawers also offer a white series including:
Snow White
Stratus SuperMatte
Antique White
Bisque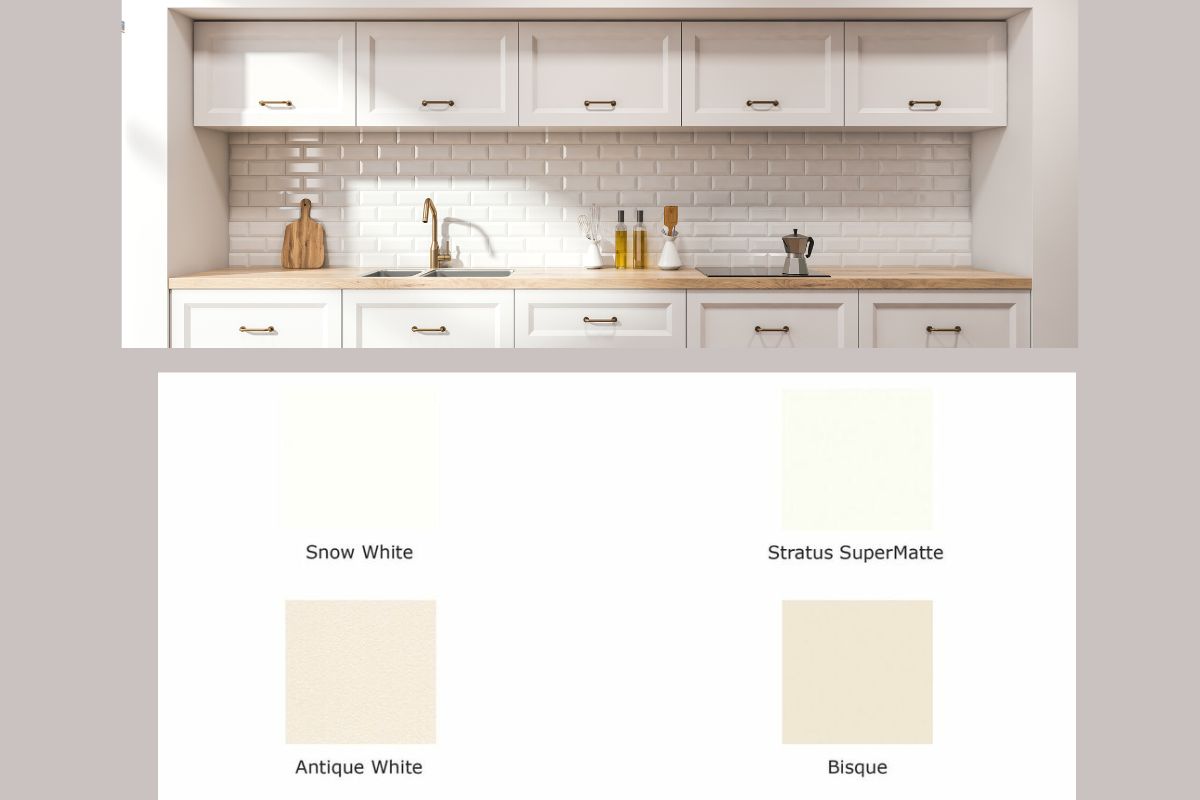 Each of the thermofoil series can be purchased with laminate sheets that can be adhered to your cabinet boxes to match your new beautiful cabinet doors. All of these options are stunning shades of white that will transform the look of your kitchen to feel more open and airy.
3. Add Glass Panels
Another amazing way to brighten up a dark kitchen is to add glass panels to showcase your favorite dishes. Or better yet, add lighting inside your cabinet boxes to illuminate your cabinet doors. The Ferowich's purchased the Revere cabinet doors with glass panels. They left the upper cabinet doors open for glass and then added six French lites to one corner cabinet.
One of our favorite features they added was the peel and stick wallpaper on the glass panels, while putting lights inside to give a glowing, vintage spice to their cabinet doors. This is a beautiful, yet simple way to illuminate your kitchen and create an aesthetically pleasing addition to your home. Don't be surprised when all your friends and family will take this idea from you.
4. Add More Lighting
Adding more lighting to your kitchen is a perfect way to brighten it up. It is so easy, yet can make a world of difference. Our favorite way to add more lighting is to add a string of lights underneath and along the top of the cabinet boxes. Build with Ferguson offers tape lights, puck lights, and bar lights just to name a few.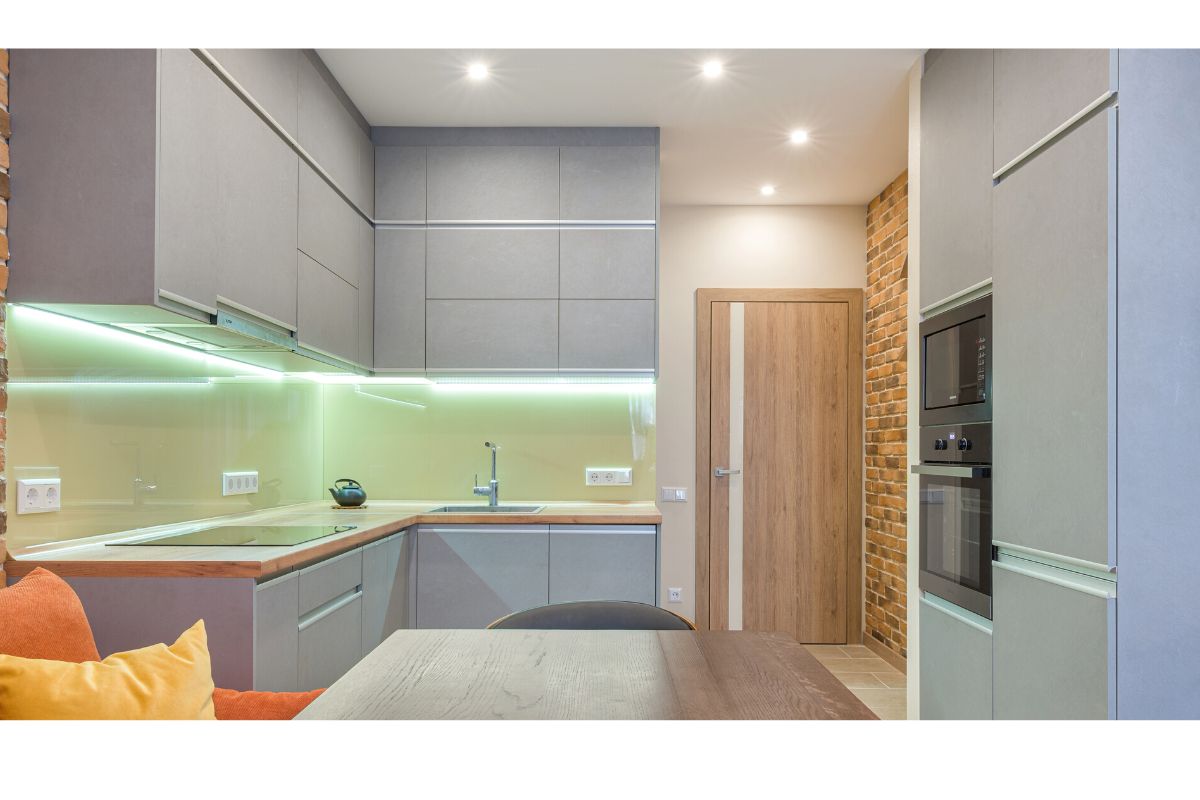 This Chicago suburb kitchen added lighting underneath the cabinet boxes to illuminate their beautiful granite countertops and entire kitchen. This is an exquisite way to irradiate and brighten a dark kitchen. Just like the Ferowich family did, you can also add lights behind the glass panels to illuminate your cabinets from the inside. In addition, a way to brighten the feel of your kitchen is by adding lighting to your ceiling with a beautiful chandelier or light fixture to lighten the whole kitchen on top of the lighting you have installed.
5. Add White Decorative Accents
White decorative accents compliment and bring out white cabinets which can instantly brighten your kitchen. Doing so can create a simplistic, modernized ambience.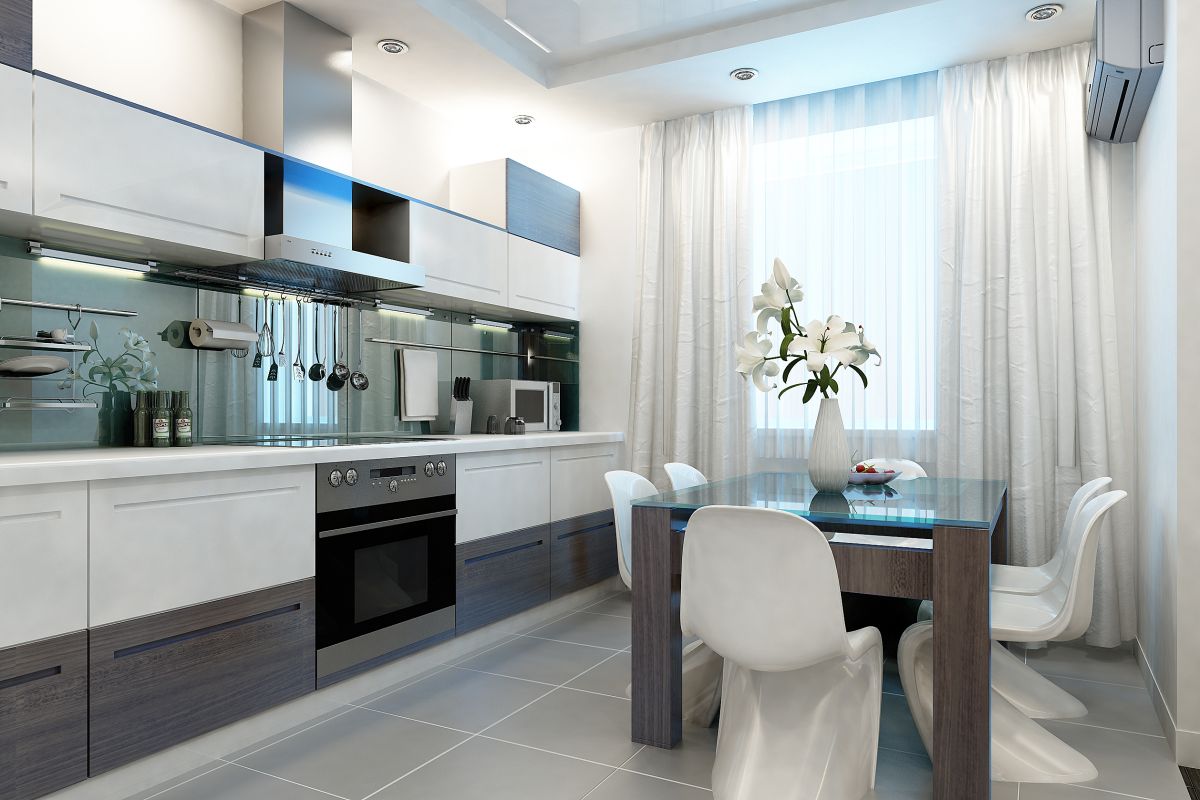 Take a look at all the ways you can accomplish this:
Adding white flowers as your centerpiece on an island like the Ferowich home placed a clear glass vase of stunning white roses.
Adding white dishes in visible cabinet doors, such as glass or open panels.
Using a white fruit bowl on your countertops.
Putting up a white light fixture.
Using white vases.
Buying white jars for your flour, sugar, salt and pepper shakers.
Adding a white kitchen rug.
Hanging up white curtains.
As you can see, these are all wonderful, and simple ways to easily brighten your dark kitchen.
---
Why Should You Reface Your Cabinets?
Refacing cabinet doors and drawer fronts is a popular kitchen upgrade project you can do if you are on a budget. The Ferowich family saved an extensive amount of money by leaving their existing cabinet boxes and just changing the faces, while still changing the entire ambience of their kitchen.
With CabinetNow, you will just need to decide the door and drawer style, material and overlay you want for your new kitchen upgrade and we ship directly to your doorstep. We offer a variety of cabinet doors and drawer fronts based on your personal preference whether you are looking for unfinished to paint yourself or finished doors and drawer fronts ready to install.
Refacing kitchen cabinets can completely transform your kitchen based on the style and color you choose.
---
Cabinet Refacing Cost
Most people put off updating their cabinets for numerous reasons, mainly because life gets in the way. We get it, there is only so much time in a day. Life gets busy and thinking about a remodel project may sound exhausting and expensive.
With refacing, you can save a whole lot of time and money. Check out how much you can save on your kitchen cabinet project based on our variety of custom cabinet doors with a standard 10x10 kitchen.
Refacing v.s. Full Remodel Cost
| | | | |
| --- | --- | --- | --- |
| | Unfinished Wood Doors | Finished Wood Doors | Thermofoil Doors |
| Refacing for Standard Size Kitchen 10x10 (Avg Cost) | $1,600 | $3,000 | $1,300 |
| Full Remodel with Cabinet Boxes for Standard Size Kitchen 10x10 (Avg Cost) | $15,000 | $17,000 | $14,500 |
Savings:
Price Difference between Refacing and Full Remodel for Unfinished Doors: $13,400
Price Difference between Refacing and Full Remodel for Finished Doors: $14,000
Price Difference between Refacing and Full Remodel for Thermofoil Doors: $13,200
As you can see, you can save anywhere from $13,000-$14,000 by just refacing your cabinet boxes. Prices vary on many factors including size, material, finish, and extra additions such as fillers. But, this is a rough estimate to show how much cheaper it can be!
---
How to DIY a Cabinet Refacing Project
You can save even more by DIYing a refacing project just like the Ferowichs' and it is not as complicated as it may seem. Using our cabinet doors and drawer fronts is super easy to do by yourself and with the help of CabinetNow. In just seven steps, you can have a transformed kitchen overnight!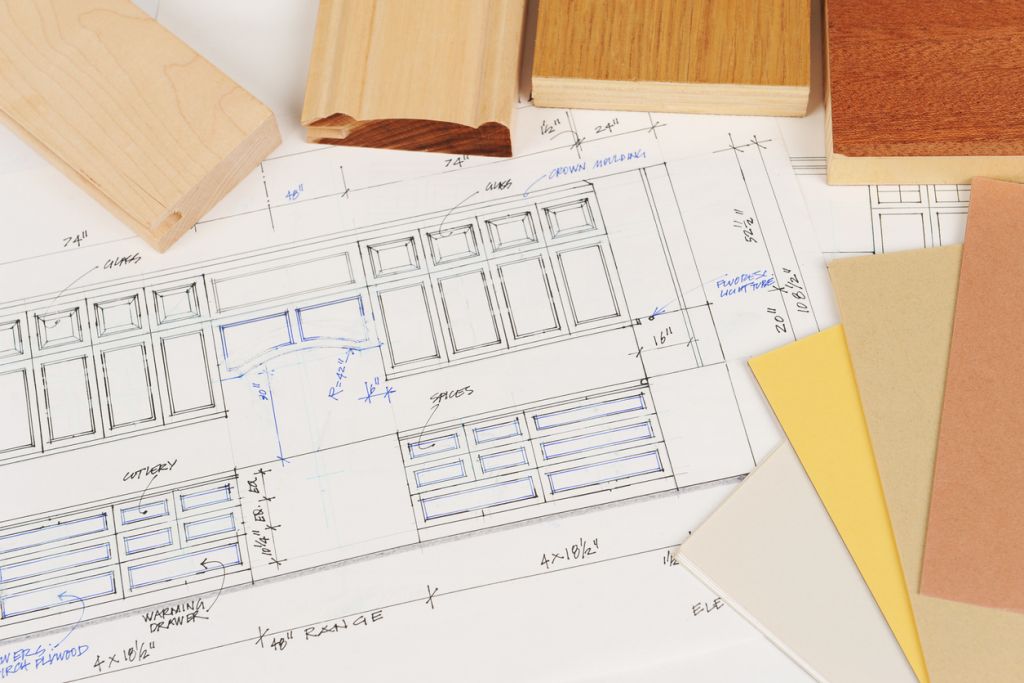 Step 1: The first step for refacing cabinets is to measure your existing cabinet doors if you want the same overlay. If not, then you will need to measure your cabinet box opening and do some math to calculate your desired overlay!
Step 2: Decide on if you want the cabinet doors to be pre bored, meaning do you want pre drilled holes for your existing hinges? If so, read this article to choose which boring pattern to pick based on your existing hinges.
Step 3: Once you have your dimensions, it's time to place your cabinet door and drawer front order based on personal style and material preferences.
Step 4: Once the order is placed, it's time to prep your cabinets for this project! Start by removing your cabinet doors and drawer fronts by unscrewing the hinges and taking apart the drawers to remove the face of the drawer boxes. Make sure to store all screws and hinges in a safe place because you will be using them again.
Step 5: If you are painting your cabinet boxes, begin by sanding and priming them to paint. Purchase the matching paint color and begin by painting the existing cabinet boxes once the primer has set.
Step 6: Once the cabinet doors and drawer fronts have arrived, determine if you need to finish them yourself or if they're ready for installation..
Step 7: Screw back on the doors to the hinges and add the drawer fronts to the drawer boxes.
And that's it. Wahoo!
---
Conclusion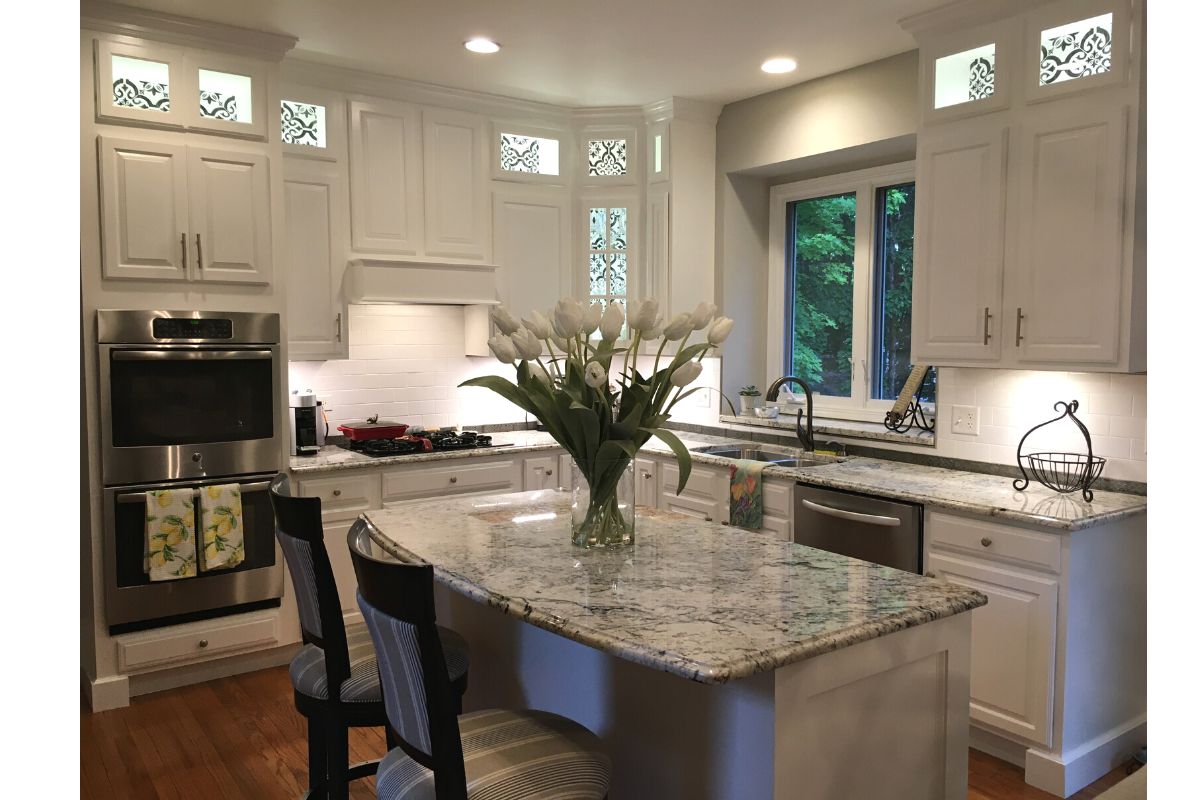 We value our customer's feedback when they purchase our custom cabinets and we love to see before and after photos of their cabinet projects. When it comes to refacing cabinet doors and drawer fronts, it is a time-efficient and money-saving option to have if you want to brighten a dark kitchen. We hope you enjoyed these tips and if you try them out send us pictures to be featured on CabinetNow! We dedicate this blog to the Ferowich family and thank them for sharing their photos with us and hope this is inspiring for your future kitchen cabinetry project.
If you are ready to start ordering or if you need assistance, please feel free to call us at 1-855-669-5222 or send us an email at info@cabinetnow.com. Our team of cabinet experts are here to help with everything from measuring to ordering. You can also fill out our custom cabinetry request form for a free quote which includes a 3D render and layout design from our professional designers!