Kitchen Remodeling: A Beginners Guide To Painting Cabinets
The kitchen is the most renovated room in American households. While some prefer simple and practical kitchens, others like open kitchens with exposed concrete and vintage faucets. Your style depends on your personality and the overall flow of the home. When planning a kitchen remodel, painting your cabinets should be a high priority.
---
Should You Repaint Your Cabinets?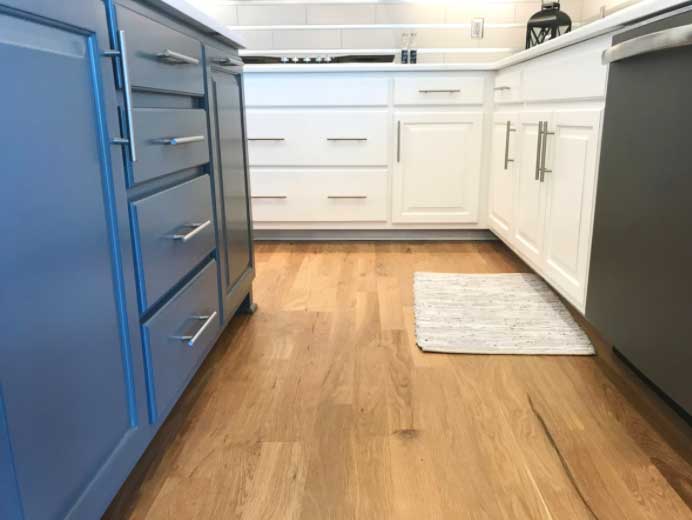 Kitchen remodels give you a choice between refacing and replacing the cabinetry. Look at your kitchen and decide whether the cabinets could use an overhaul. Typically, if your cabinet boxes are still in good condition then you can save by refacing. Refacing your kitchen cabinets is the process of replacing just the cabinet doors and drawers, plus giving the cabinet boxes a new finish.
You have options to repaint, replace or both. If you replace your cabinets with a higher-quality material, you can still paint the kitchen the color scheme you want. You have complete control over how your room turns out, but before you can begin repainting, there are a few things to consider.
Inspect Cabinets for Damage
Before you begin your remodel, inspect the cabinets for structural damage. Look for loose joints and cracks. To check for soft areas, take a knife and poke the cabinets inside. If the blade pierces the wood easily, it can indicate rot. Lower cabinets are the most likely to experience water damage. If the cabinets are sagging, you might be unable to refinish them.
Additionally, all of your drawers should roll smoothly. If you have cracks, worn parts or missing fasteners, you have to choose between repairing the drawers or replacing the drawers entirely. Ensure all your cabinets are attached firmly to the walls to check the structural integrity.
If you have face frames, ensure they are still attached to the cabinets. You can repair minor cracks or holes, but if you have split cabinets, you must replace them before the kitchen remodel.
Double-Check Your Cabinet Material
Painting cabinets takes an understanding of the materials used to build your kitchen. If you don't know the material used to create your cabinets, it's time to look into it. Different materials impact how you perform the paint job.
Wooden Cabinets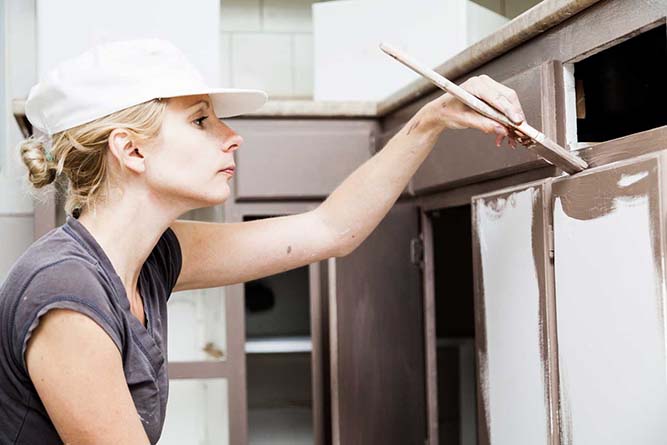 Before painting your wooden cabinets, you must know what type of finish they have. Different finishes and glazes can pose different difficulty levels regarding paint adhering. Generally, you have to strip or sand the finish away before you can apply the paint. Fortunately, wooden cabinets are also the most durable. They tend to last longer and can handle renovations better than other materials.
Laminate and Melamine
Laminate and melamine are commonly used in kitchen cabinets. Laminate is a combination of paper and resin. It can feature different colors and patterns and easily affixes to plywood and fiberboard. While high-quality laminate chips and cracks less, this material does tend to wear down quicker than solid wood. Melamine is similar to laminate, except it tends to be cheaper to make.
One of the most significant issues with laminate and melamine is that they chip and become scratched regularly. Unfortunately, they can also be challenging to repair or repaint. When painting cabinets with melamine or laminate, you must prepare the surface so the paint will stick. These materials repel spills, including paint. To recolor these doors, you must de-gloss and roughen the plastic surface before painting. Typically, it is not recommended to paint laminate cabinets.
Particle Board
Contractors manufacture particle boards by gluing wood fibers together. They press the fibers and sometimes use a mold to shape them. While particle boards do not have the same durability as solid wood, they tend to be more affordable and you can still repaint them. When painting, you have to sand off the old paint. Make sure the particle board is scuffed up, so the color has something to stick to.
Determine if You Should Replace the Cabinets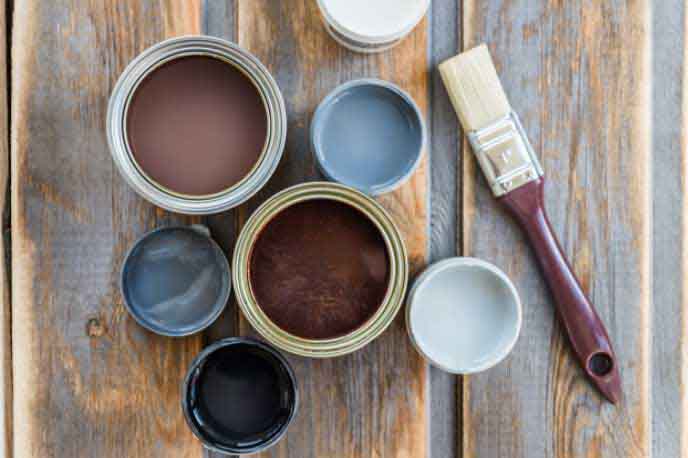 If your cabinets have moderate to severe damage, it may cost less in the long run to replace them. In addition, you can choose custom cabinetry and still paint your cabinets any color you choose. High-quality wood lasts longer and is more durable than lower-quality materials.
---
Which Colors Are Ideal for Painting Cabinets?
Choosing the color for your kitchen and your cabinets is one of the most significant decisions you'll make throughout the process. Look at your kitchen and determine what you want the overall room to look like when you're finished. Do you want a dramatic change to the overall theme or do you want to freshen up the kitchen?
Whites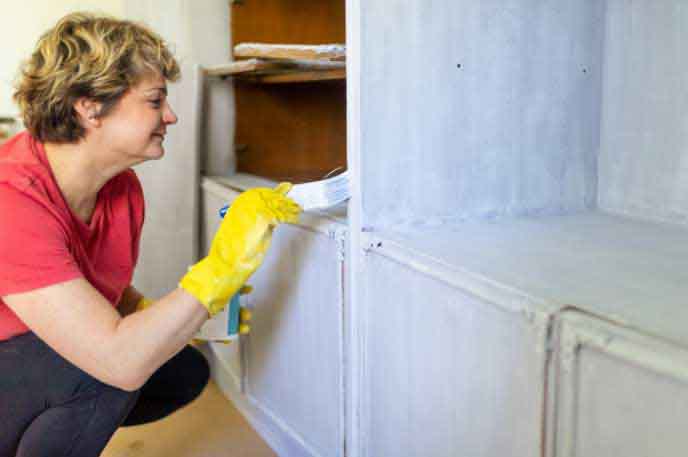 White is a classic color for kitchen cabinets. No matter how much time passes, white rarely looks dated. Additionally, your kitchen will naturally look cleaner and brighter with white cabinetry and bright appliances. However, when choosing white, keep in mind that white comes in all different shades, including:
Creamy whites
Oyster whites
Blue whites
Bright whites
Creamy whites have a sunny glow with gold-tinged hues. Think of bright, off-white tones. Generally, painting cabinets creamy white makes a room feel warm and comfortable. Oyster whites, on the other hand, mix well with neutral colors. They complement gray and beige paint the most but can even work with brighter, more unique colors. Oyster white can bring out any decorated woodwork or plaster on your cabinetry.
Blue whites are bright but with a hint of coolness. The idea behind blue-white is to be calming and traditional. They are contemporary and clean. Bright whites are the new, clean type of white. The biggest flaw with bright white is that it does not hide anything on your walls. If you're worried about imperfections, bright white can bring them out more.
Neutrals
For people who want to have a balanced color palette or to add value to their home before a sale, neutral paint shades are ideal. When you use neutral colors, you can balance the colors and anchor the room. If you want to bring an air of calm into the kitchen, consider neutrals as your base for the cabinets. Neutrals can also lighten up a room and sharpen the architecture.
Dark Hues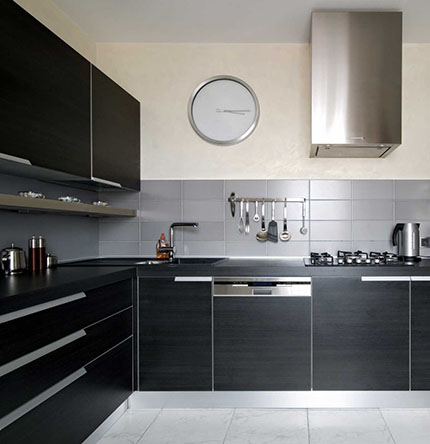 Dark hues are always a bold choice. Some people fear that they will lose a lot of light in a space if they use dark colors. This is not necessarily true if you have considerable natural light and know how to decorate using accent pieces.
If you choose to go dark, try to commit to it. Dark cabinets provide elegance to a room. As a bonus, for homes with children, you are less likely to see the grime on them. When painting cabinets dark, you are adding instant warmth to the room.
Brights
Don't be afraid to be creative with your cabinets. If you do a lot of cooking, using bright colors can be a way to spark creativity and make you feel energized while in the kitchen.
No matter your color choice, always test the colors in different levels of lighting. A hue may look different in the paint aisle than it does in the sunlight of your kitchen. Use foam core or poster board with a paint sample to see what the cabinets will look like in different kitchen areas during other times of the day.
---
What Are the Steps for Painting Cabinets?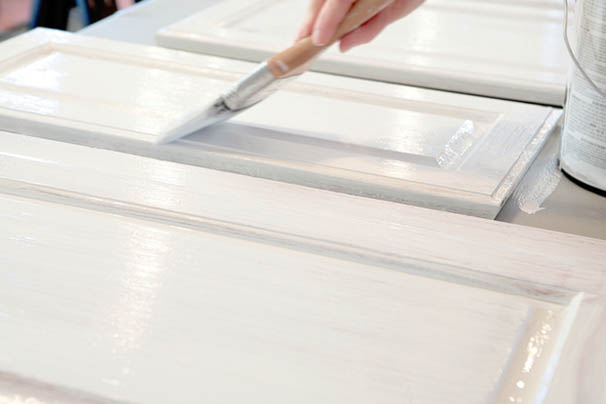 You know you want to remodel the kitchen, so it's time to pick up the paintbrush and get to work. Before you jump into painting cabinets, you need to know the process to ensure the paint can adhere to your cabinetry.
Choose the Paint Type
When choosing the paint type, oil and latex should be your go-tos. While oil-based paints are the traditional paints many professionals choose, latex has improved and is the most user-friendly type of paint. It dries quickly and you can clean spills with water. However, oil-based topcoats are more durable and harder. Latex paints take up to three weeks longer to cure than oil-based paints. While curing, latex is prone to damage.
Prepare the Kitchen
Before you begin painting, prep the cabinets. Start with clearing the counters, emptying the cabinets and removing any appliances. All tables and furniture should be in a separate room. Once you have the kitchen clear, tape paper over the flooring and countertops to protect them. Use plastic sheeting to protect the house from fumes and dust.
Remove any shelves, doors, or drawers on your cabinetry. During removal, mark each door, and the corresponding hardware, to remember where they go.
Clean Your Surfaces
Before painting cabinets, spray the cabinet with a degreaser solution. If there are oils or grease on the cabinet, it can interfere with the finish. Some cabinets may require stronger cleaners like trisodium phosphate to remove the oil and grease. When you clean the cabinets, rinse them and let them dry.
Prepare the Boxes
Move onto the box prep next. Keep your windows open for ventilation and take a rag and liquid deglosser to scrub down the surface. Do not wait for the deglosser to evaporate. Instead, wipe it with a clean, dampened rag.
Scuff the surfaces of your drawers, doors and cabinets with a sanding block. Light sanding allows for the primer to attach to the wood. Do not sand down to bare wood.
Prime the Boxes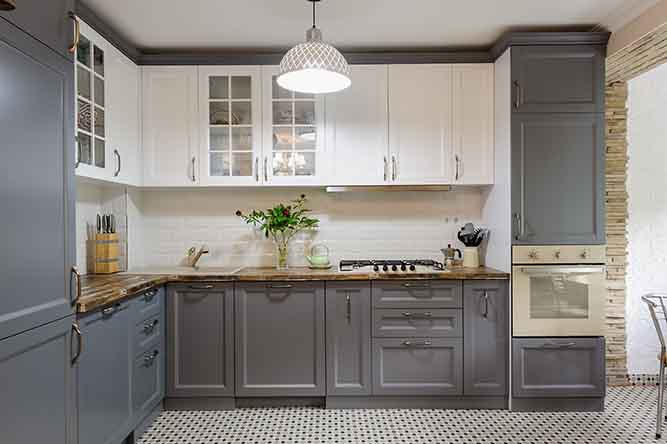 Start with a primer before painting cabinets. In most cases, you can use an oil-based or latex primer for your cabinets. However, if you have a heavily stained cabinet, you may need to use a stain-blocking primer: stain-blocking primers seals knots and surface defects.
Pour your primer into a paint tray and use a brush and roller to apply it. Use the brush for tight spots and edges and the roller for the larger surfaces. Start from the top of the cabinet and brush across the grain.
Once you let the primer dry, sand the surface with 220-grit paper. You should use medium-grit sanding sponges for the profiled surfaces and stop when the wood feels as smooth as glass. Next, use caulk on the open seams. If you have any minor dents, dings or scratches on the cabinets, use spackle to fill them in. The spackle dries in about 60 minutes and after you can use 220-grit paper to sand again and wipe with a tack cloth.
After all the minor touch-ups and fillings are done, apply a second coat of primer and wait for it to dry. Once it is dry, use the fine sandpaper to lightly scuff the surfaces before moving on to painting.
Paint the Boxes
Once you've primed and prepped, you're ready for the paint job. If you are using a color close to the former color of the cabinet, you can apply about two coats of paint. However, if you want to paint over a dark coat with a light coat, three coats may be needed.
Every time you paint a new coat, use a new brush. Between coats of paint, gently sand the surfaces of the cabinets. Always clean all the debris, or you'll see it in the paint job later.
Use a brush to cut the edges and push the paint into the corners for a smooth job. You should only rollers to paint over large, flat surfaces. When you paint the interior of the cabinet, try a mini-roller. For paneled doors, start with the area around the panel and then do the central part of the panel. You should do the stiles, edges and rails last. Make sure you clean up any paint on adjacent dry surfaces.
Reassemble the Cabinets
After painting cabinets, it's time to reassemble all of the pieces. Make sure you wait until the wood is completely dry before you start. Attach the door and drawer fronts, remove the tape and install the hinges and knobs. Put the drawer pulls back or replace them with brand new ones and reinstall every drawer.
---
Swap Your Old Cabinets for New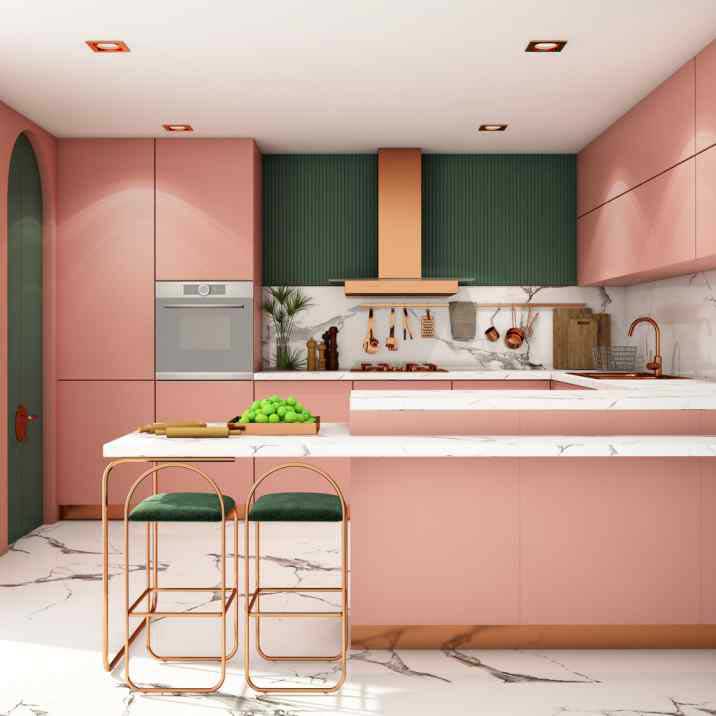 A fresh coat of paint can change the overall feeling of a room. However, before planning a new paint job, you should understand how to prepare your kitchen for the hard work. If you do little research or preparation, your paint might not stick to the cabinetry and may look nothing like you imagined. Painting cabinets takes knowledge and skill.
At CabinetNow, we are dedicated to delivering high-quality cabinet doors and drawer fronts to our clients. To bring your kitchen to the next level, check our inventory and order a sample today.
If you are ready to start ordering or if you need assistance, please feel free to call us at 1-855-669-5222 or send us an email at info@cabinetnow.com. Our team of cabinet experts is here to help with everything from measuring to ordering.