Buying new or replacement cabinet doors can be a large commitment in terms of both time and money. If you are like me, then you like to have all the information you need before making such a large purchase. The last thing you want is having everything arrive and the color or shape is not exactly what you thought it would be.
To help homeowners feel fully confident before buying, we at CabinetNow offer samples of our paint colors, thermofoil materials, and even whole sample doors. These allow you to verify that the color or material is exactly what you want before you have to commit to a major purchase. In this quick blog, we are going to highlight the various sample offerings we have, and how you can use these to find your perfect cabinet style.
---
Sample Color Books
Our most budget-friendly sample option is our sample color books and thermofoil sample books. These sample books are all listed for $1 with shipping included. Our paint sample book features 7 high-quality paints that can be used for our painted cabinet doors. These colors are mixed to order and are approximate matches to popular Sherwin Williams colors. These colors range from stunning off-whites like alabaster and antique white to trendy, cool grays such as Mindful Grey and Anonymous.
---
Popular Kitchen Cabinet Paint Colors
Whites and off-whites are almost always in style when it comes to kitchen cabinets. These brighter colors help to reflect natural light around the room, which can have the added benefit of making the room feel larger. In addition, white cabinets are easier to keep clean, as you will more easily be able to spot grease or dirt than on darker cabinets. Whites and off-whites can be great for sleek modernism or a cozy farmhouse!
Our cool grays can also be great for modern kitchen designs. These colors are growing in popularity and creative applications. In larger kitchens, these darker colors can be great for helping the space to feel more grounded and centered. Occasionally, larger, open-concept kitchens can feel disconnected or unfocused. Pair these darker tones with gold hardware for exciting, ornate modernism.
---
Thermofoil Colors, Textures, and Samples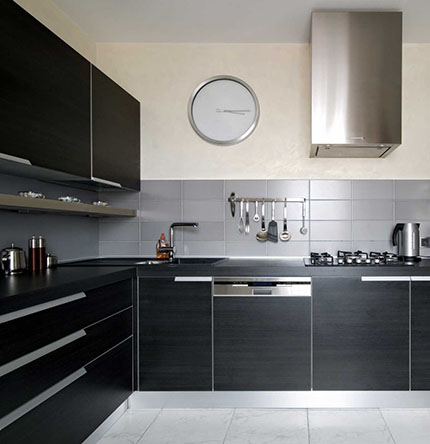 In addition to our paint samples, we also offer samples of our thermofoil colors and textures. These material samples can easily be removed from the sample card so that you can see exactly how that color will look in your kitchen. This removes the work of having to guess which of our 7 shades of white is the right fit for your home. Plus, you can also get a "feel" for our textured options which include stunning wood grains and tones.
---
Popular Thermofoil Kitchen Cabinets
Choosing thermofoil for your kitchen cabinets gives you two special benefits. The first is that these doors will arrive fully finished, which means that you don't have to worry about doing any painting or staining after they arrive. This can help to save you time and money. The second benefit is that thermofoil is available in a huge variety of trendy colors and textures. Since it is an engineered material, thermofoil can be produced in anything from navy blues and sage green to weathered oak.
Many people who are looking to create modern kitchen designs choose thermofoil for its range of colors. Paired with a full-overlay installation, thermofoil cabinets can be used to make stunning walls of seamless cabinetry. Plus, once you pair them with refrigerator and dishwasher panel coverings, you will create an unmatched sense of unity.
---
Thermofoil and Solid Wood Sample Cabinet Doors
If you already know the color you are looking for, then you might be interested in our sample cabinet doors. These are 12" x 16" samples that are available in any of our unfinished, solid wood cabinet door styles, or as 12" x 16" samples of nearly all our thermofoil options. This means that you can see a sample of both the material and styles of your door in a realistic size. Ordering a sample cabinet door will give you a great idea of how the style could fit into your kitchen design.
In addition, we are also excited to offer 12" x 16" samples of our latest modern thermofoil options and our high-quality wood veneers. These, along with the solid wood and thermofoil cabinet doors samples, are available for just $50, which includes free shipping. Our sample cabinet doors come with a coupon that can be used to get $50 off any order of $500 or more. Note: Only one coupon code can be used per order.
---
Final Thoughts on Cabinet Door Samples
And there you have it! You know have all you need to quickly and conveniently order cabinet door samples right to your door. These affordable samples offer you a way to increase your confidence in your purchase, plus, they can be extremely helpful for planning or finalizing your kitchen design. Plus, if you are ordering a sample cabinet door, you also may be able to use the coupon code if your order qualifies.
If you are ready to start ordering or if you need assistance, please feel free to call us at 1-855-669-5222 or send us an email at info@cabinetnow.com. Our team of cabinet experts is here to help with everything from measuring to ordering.
Thanks for reading! Enjoy 5% off your next order with coupon code "BLOG5"