Kitchen Cabinet Door and Drawer Replacement
Kitchen cabinet door and drawer replacement can be easier and less expensive than most people expect. In fact, you can accomplish an entirely new look in your kitchen for a fraction of the cost of hiring a contractor.
You can achieve excellent results by refacing kitchen cabinet doors and drawers yourself. Refacing your cabinets means replacing just the cabinet doors and drawer fronts.
---
Start Your Kitchen Cabinet and Drawer Replacement
With any DIY project, the first step is to envision your end goal. You can't reach your destination if you don't know where you're going.
Decide on Functionality and General Layout
Begin by considering the space in your kitchen. Does the current layout work for you and your family? Do you like the food preparation space and dining area that you have? Will you need to add an island or open the current kitchen to an adjoining room for additional light or space?
Before you plan which cabinet doors and drawers will suit you, be sure you have a clear picture of the fixtures in the room and how you want the finished kitchen to function. If you are going to move appliances or alter the layout, address these structural changes first.
Calculate Cabinet Doors and Drawer Front Measurements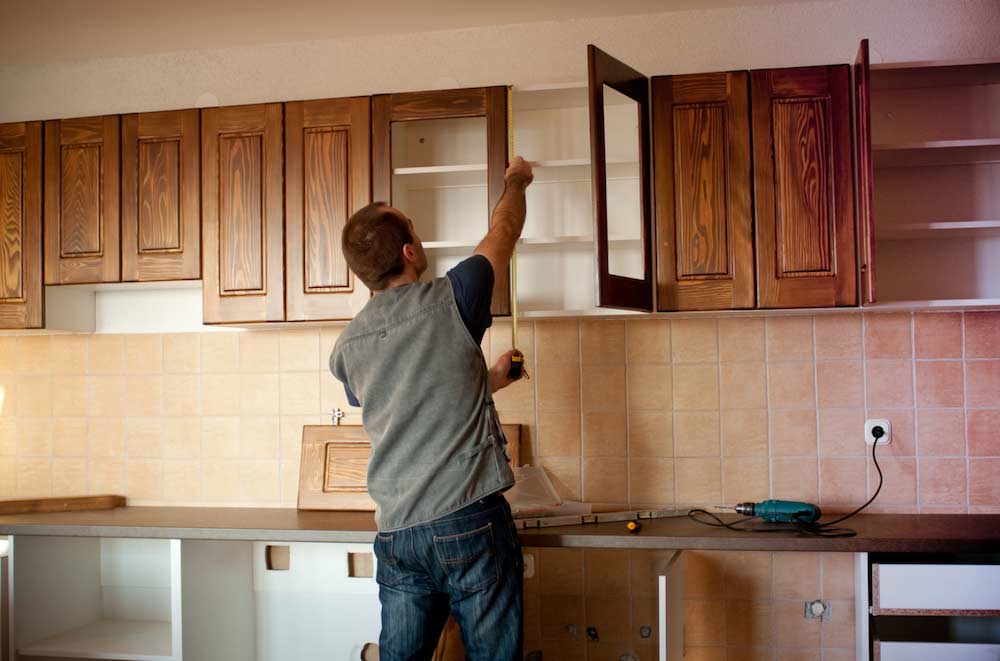 As you dive into your kitchen cabinet and drawer replacement project, you'll need to measure for the new cabinet doors and drawer fronts. All replacement doors and drawers are made to your specifications, so you need to use accurate measurements for a good fit.
Measuring for Replacement Cabinets
If your new cabinet doors are going to be the same size as existing cabinet doors, simply measure your current doors from outside edge to outside edge. Otherwise, measure the cabinet opening side to side and top to bottom. Determine how much of an overlay you want, multiply the overlay by two, and add this to your dimensions.
As an example, if your cabinet is 20 inches wide by 28 inches high and you would like an overlay of 1/2 an inch, your cabinet door size will be 21 inches by 29 inches.
If you have two adjacent cabinet doors, ensure that you leave enough space between them so that both of them can be open or closed at the same time. Measuring for split cabinet doors requires a few more steps, so be sure to check our guide to get the best results.
Choose Kitchen Cabinet and Drawer Replacement Style
With literally hundreds of styles and colors of cabinet doors and drawer fronts to choose from, it may be overwhelming to know where to begin.
Style of Your Home
Start with the general feel of the rest of your house. Is it modern or traditional? Is it urban chic or farmhouse casual, or a combination or something in between? Your new kitchen doesn't have to be perfectly coordinated with the decor of your entire home, but try to avoid having the new look clash, especially with the adjacent rooms.
Stand in the next room and look into the kitchen. Now imagine how those replacement cabinets will look from this vantage point. Do they feel like another room in the same house, or do they look out of place? You can have samples of door fronts made to help you decide on the best kitchen cabinet and drawer replacement style for your application.
Size and Layout of Your Kitchen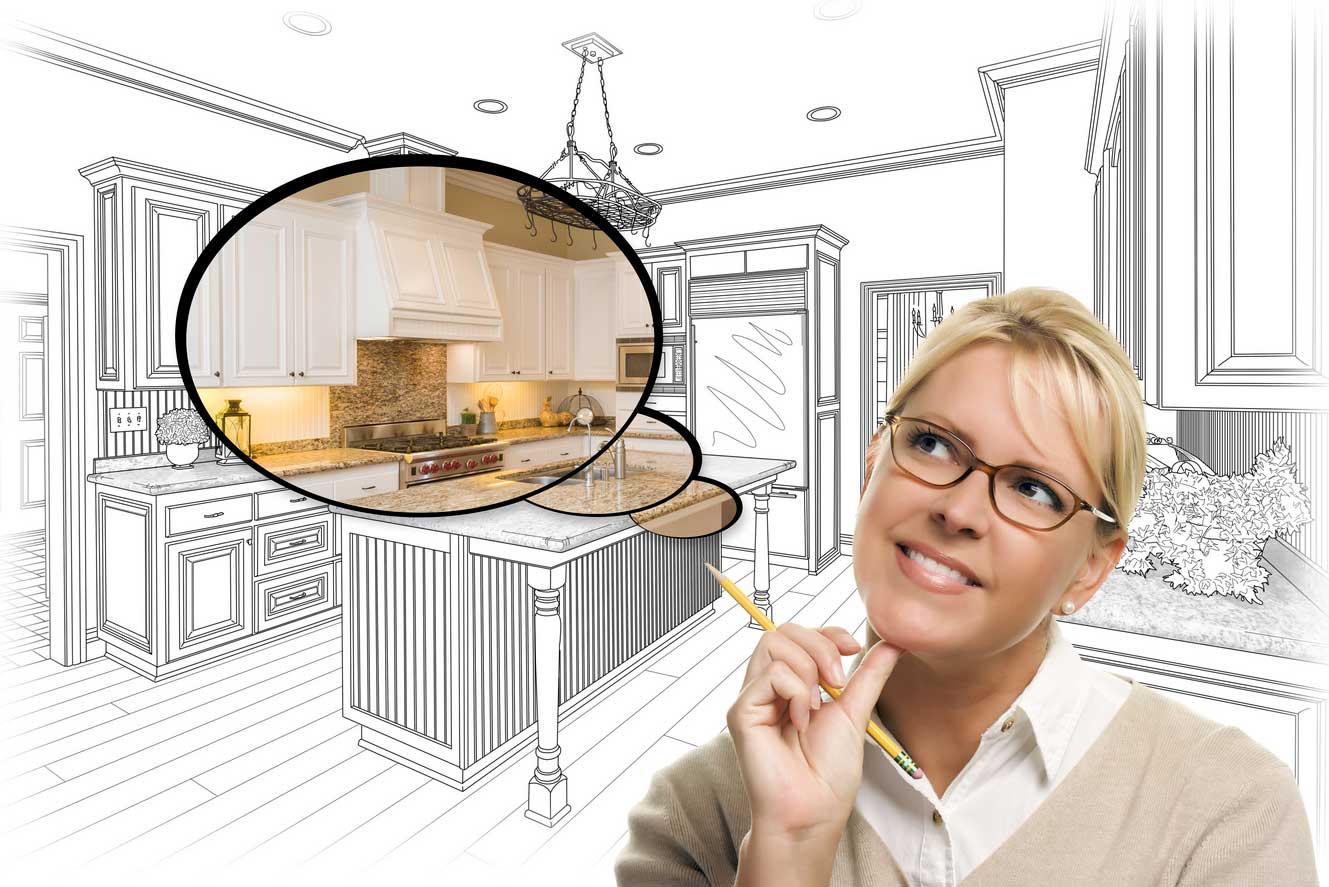 Generally, a large room or an open layout will work better with darker colors than a smaller or more limited area. Light colors work fine in any size kitchen but can give a sense of coldness or austerity if the room is very large and open.
A galley-style kitchen, for example, will generally benefit from the added brightness of lighter woods or paints. Darker colors or wood tones are grounding and can make a large space feel warmer and more inviting.
Space and Light in the Room
A room with lots of natural light or very high ceilings will feel larger than the square footage suggests. If you have an open space with plenty of windows, even a small kitchen can handle dark wood tones or deeper colors for cabinets and drawers. Conversely, in a tight galley layout, dark colors can feel heavy and confining.
If you have a small kitchen but you love dark tones, all you need is lots of light, natural or otherwise. If you don't have enough windows to pull off the colors you want, you may just need to add a few extra lights to the room.
Preference for Wood or Solid Color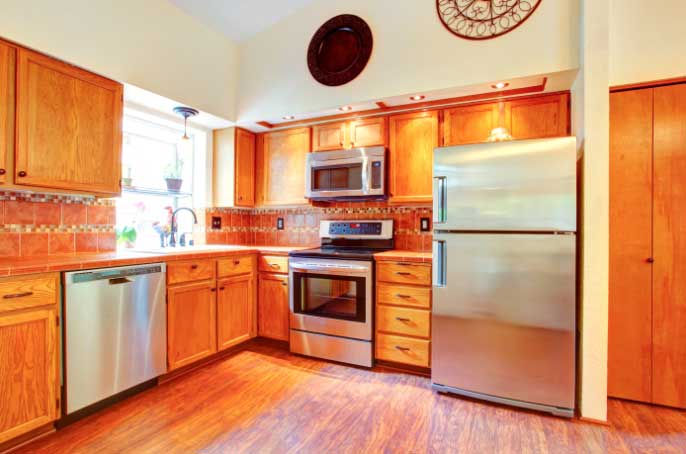 Beautiful natural wood kitchen cabinet door and drawer replacement options are available in many shades and wood grains. There are painted drawer fronts and cabinet doors in many colors, as well as primed selections that you can paint any color you like.
People often have a preference for either a wood finish or a solid color. The only real consideration here is to ensure that your choice coordinates with the existing elements of the room.
Natural or Manufactured Options
There are solid natural wood doors made of oak, maple, alder, cherry, and pecan. Manufactured Thermofoil doors also come over two dozen wood grains and stain colors as well. These include the classics, along with several shades of walnut and elm as well as mahogany.
What Finishes Are Available for Wood?
Traditional solid wood cabinet doors and drawer fronts are available unfinished, meaning they arrive ready for paint, primer, or stain. You may also opt for a clear finish or fronts primed for paint or painted in a variety of popular colors.
What Is Thermofoil?
Thermofoil is a vinyl laminate that is heated and pressurized to a core of MDF. This creates a low-maintenance and cost-effective product for kitchen cabinet and drawer replacement. Thermofoil cabinets are available in custom sizes just like natural wood. They are easy to keep clean and they won't sag or warp the way wooden cabinets can.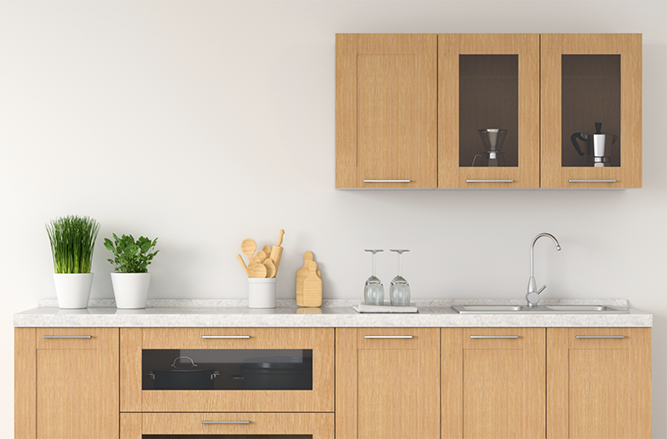 Thermofoil provides a beautiful, carefree finish at an excellent price. This option offers wood grain finishes that are not available in natural wood cabinets, such as dark walnut and mahogany.
This is a flexible, cost-effective option that will work well in almost any kitchen. Manufactured cabinet doors should not be used where they will be exposed to extreme heat or moisture, however, such as over a dishwasher steam vent or above a range.
Price Considerations
If your kitchen cabinet and drawer replacement project is dependent on cost, it's helpful to have an idea of how various product prices compare. Your least-expensive option is usually going to be found in the unfinished MDF products. Thermofoil is the next least expensive, followed by a clear finish or a door coated with primer, ready for you to paint.
The most expensive custom cabinet doors are usually those that are primed and painted, ready to hang. A door finished this way can be close to three times the cost of the same door unfinished. The cost of a clear-coated or primed door generally falls roughly in the middle of the price range.
Thermofoil doors are fully finished and ready to hang for a price that is usually a little less than the price of a primed or clear-coated natural wood door. If you are looking for a solid color and you don't want to paint your new cabinets, Thermofoil is a great option.
---
Install Your New Cabinet Doors and Drawer Fronts
The kitchen cabinet and drawer replacement process begins with removing the old cabinets and hardware. You may need to clean up or repair the cabinet frames, and then you'll be ready to hang your replacements.
Remove Old Doors and Drawer Fronts Carefully To Prevent Damage
Since you will be using the existing cabinet boxes, preserve their integrity while you remove the old doors. Label and keep track of any screws or hinges that you plan to reuse.
Remove the lower screws on each hinge first. If you take out the top screws in the hinges before you remove the lower ones, the weight of the door can pull the hinge out of position and damage the hinge or the cabinet frame. Have someone help you by holding the door in place while you loosen the top screws.
Drawers are a little easier because you can remove the entire drawer and set it on a table or workbench while you take off the old drawer front. Use a block to support the drawer or set it on the edge of your work surface with the overlay hanging off the side to stabilize the bottom of the drawer box.
Repair Frames as Necessary
If there is any damage to the cabinet frames, this is your opportunity to tidy them up. Prepare for your new cabinet fronts by filling any dents or holes, sanding and sealing.
Hang Your Cabinet Doors
The final step of the kitchen cabinet and drawer replacement process is to actually install the cabinet doors. How you hang your cabinets will depend on what type of hinges you are using and the size of the door.
Place and Attach Hinges
The first step is to determine how the door will be positioned on the frame and where your hinges will be installed. Most kitchen cabinets will require two hinges. If your cabinet door is large and heavy, you may need an additional hinge in the middle of the door. Check the instructions for proper hinge placement. With most hinge styles, you will attach the hinges to the cabinet door first.
Measure carefully before drilling pilot holes. Check the placement and use a pencil to mark the location of each screw. Drill slowly and make your pilot holes shallow so you don't risk damaging the cabinet by drilling all the way through to the front.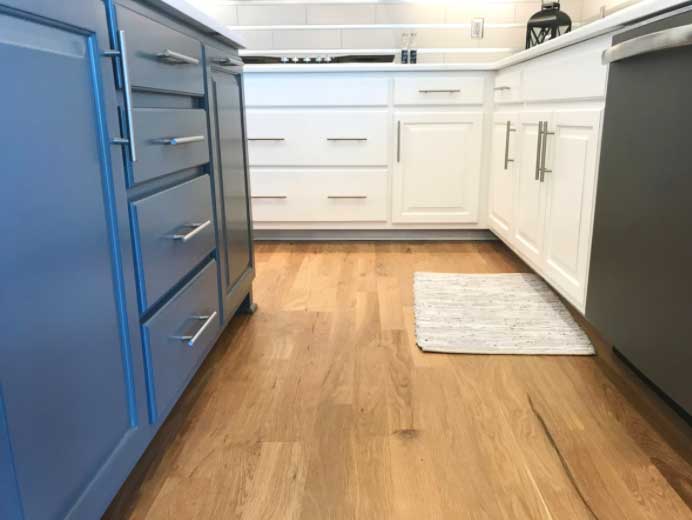 Finally, screw your hinges into place on the cabinet doors.
Hang the Cabinet Doors
Once the hinges are attached to your cabinet doors, you're ready for the next step of the kitchen cabinet and drawer replacement process.
Carefully calculate where the pilot holes belong in the cabinet frame, based on the position of the hinges on the door. Mark and drill pilot holes in the frame of the cabinet. Have someone hold the door with the hinges in place while you drive the screws attaching the hinges to the cabinet frame.
Adjust Hinges
You may need to adjust the hinges after installation. It's very simple to fine-tune the placement of your new cabinet door using these adjustments. The exact process for adjusting the hinge will vary based on manufacturer and model, but it will roughly resemble the following:
To move the door side to side, turn the screw that is closest to the door or the front of the cabinet. Turn it clockwise to shift the cabinet to the right and counterclockwise to adjust it to the left. If your cabinet door needs a height adjustment, turn the screw on the back of the hinge, deeper in the cabinet, to move the door up or down.
---
Select the Best Kitchen Cabinet and Drawer Replacement Options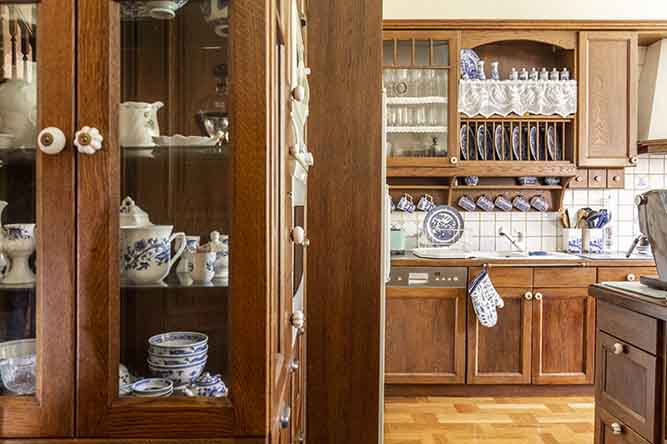 Remodeling a kitchen involves real consideration. Get the right cabinets to revitalize this space. Doing any renovation the right way requires completing one step at a time. Every great DIY undertaking takes patience, but you will save a lot of money when you handle the planning and installation yourself and will be able to take great pride in your new kitchen.
Transform your food preparation space, bring in fresh new colors, and make your kitchen the one you've always wanted. Choose from natural woods or easy-to-care-for fabricated cabinet doors and drawer fronts, and stay within budget.
When you're ready for a kitchen cabinet and drawer replacement project at your house, shop the incredible range of cabinet doors and drawer fronts at CabinetNow. You'll find fully customizable options in all the popular materials as well as clear pricing and great advice.
---
Ready to Get Started?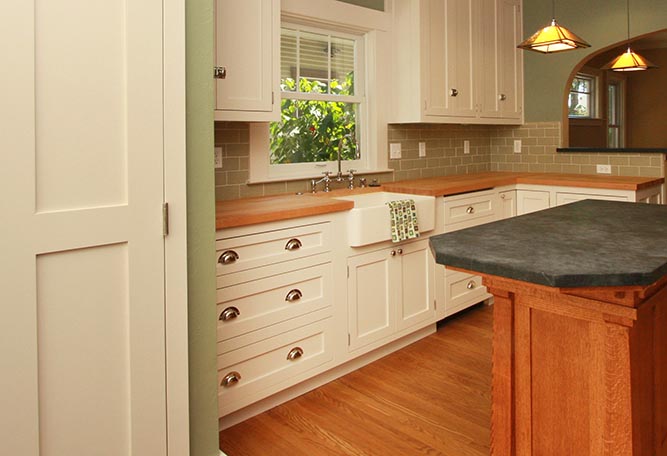 If you are ready to start ordering or if you need assistance, please feel free to call us at 1-855-669-5222 or send us an email at info@cabinetnow.com. Our team of cabinet experts is here to help with everything from measuring to ordering.