Cabinets are critical to a functional kitchen. However, they do a lot more than provide storage for your necessary cooking implements. The cabinetry defines the look and feel of the most popular room in your house.
There are so many great kitchen cabinet ideas and styles out there that you may feel overwhelmed. How do you choose the right style and color for your remodel? The best cabinets are the ones that are suited to your specific kitchen space.
---
Kitchen Cabinet Ideas for Your Lifestyle
There are endless ways to go about choosing your new kitchen cabinets. To narrow down the options, begin by considering how the room is laid out, what you have for lighting, and how you live.
1. Contemplate How You Use Your Kitchen
A major factor in any remodeling project is function. How exactly do you spend time in your kitchen? Is it strictly where you prepare meals, or is it the central social hub of your home?
Sharp and Utilitarian or Soft and Inviting?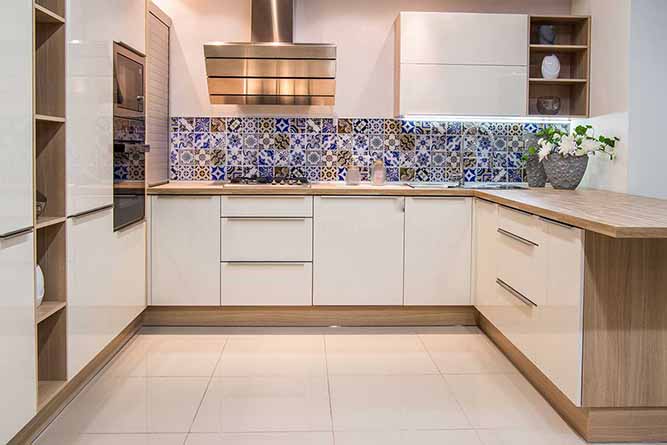 Do you want to create a cozy feeling that encourages your family to hang around and visit, or do you prefer more emphasis on the meal preparation purposes of the kitchen?
How you use the room is a great source of kitchen cabinet ideas; it affects the layout of counters and appliances, but it will also impact the colors and styles you choose for flooring, countertops, and cabinets.
An ultra-modern look with soft wood tones or paint colors and spartan seating is less inviting as a space for family and friends to lounge than something with deeper shades of color and soft comfy chairs.
Light and Airy or Warm and Cozy?
For a clean and minimalistic look, consider the light woods such as maple, pecan, or perhaps natural alder. If you prefer a painted finish, choose whites or soft, muted shades of gray, blue, or greige. Use hidden soft-close hinges and simple hardware.
If you prefer a cozier kitchen experience, have a look at the warm woods such as cherry or a walnut veneer for kitchen cabinet ideas. Paint colors could range from rich dark reds to deep, calming greens. Ensure that any natural wood present in the room such as doors or flooring is in harmony with the finish of your cabinets.
2. Coordinate With the Style of Your Home
If you have a classic New England farmhouse, the reserved, minimalist lines of ultra-modern design might be a little jarring against the backdrop of the rest of your home. On the other hand, if you are remodeling the kitchen in a chic uptown condo, ornate raised arch cabinet doors might be a little too traditional for the purpose.
Refreshing
You don't have to stay entirely in the lines of the expected when exploring kitchen cabinet ideas. In fact, a remodeling project is an excellent opportunity to shift the appearance and feel of your home. It's OK to choose a look for your new kitchen that doesn't just blend in with everything around it. It doesn't have to match, but it should mesh.
Complementary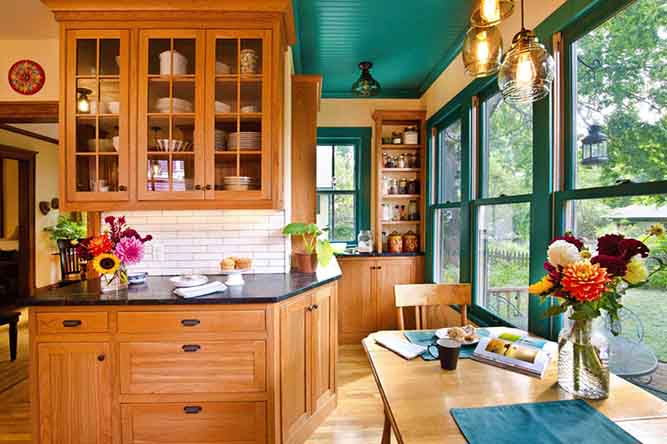 As you compare the countless styles and colors of cabinets, imagine how it will feel to walk into your kitchen from the various adjoining rooms with each design you consider. How will the kitchen look when viewed from other rooms? Does this concept work with neighboring areas of your home?
3. Consider Size, Layout, and Light
If your kitchen is large and brings in lots of natural light, you can use dark or rich colors to make the space feel lush and grounded. In the case of a smaller kitchen, lighter tones will open up the feel of the room and give the impression of spaciousness.
Kitchen Cabinet Ideas for a Double Galley Kitchen
A double galley layout will benefit from cabinets in bright, clear wood tones or light colors. While this is a popular kitchen design for its exceptional functionality, it can feel narrow and restrictive if the cabinets, counters, and walls are too dark or ornate.
With this configuration, you'll be able to reach everything you need easily for preparing a meal, but you will likely only have windows on one side, if at all. Make the space feel open with lots of lighting, clean lines, and colors that reflect rather than absorb the light.
Kitchen Cabinet Ideas for a Single Galley Layout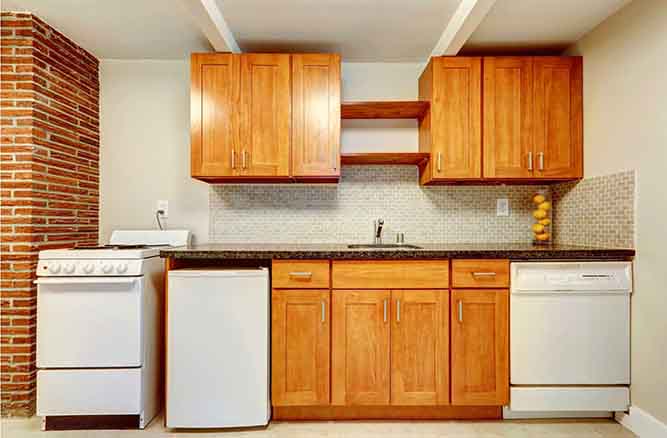 A single galley layout offers a more open feel due to the absence of the second wall and gives you a little more leeway with color and style. You generally will have a kitchen island in the center of the cooking area, intended to provide the functionality of a work triangle.
With either of these configurations, you should have more natural light in the kitchen than you achieve with a double galley layout. If you are short on windows, you'll still want to add lighting, but your cabinets can be darker without giving the impression of limited space.
The challenges with these open-room designs are a little different. You want to make sure the large space feels cohesive and grounded. You also want to bear in mind that you will see the entire room in a single field of vision; it's easy for your kitchen to look too busy with the lines and overhead lighting of the island in the foreground.
---
Kitchen Cabinet Ideas for Comfort
Your house is your shelter from the wider world, and your kitchen is where you likely spend much of your waking time when you're home. Consider what sort of environment feels the most comforting to you personally. What feels truly like home to you?
Is it important that the space feels clean, organized, and bright, or will it feel more like home to you if it is soft in tone, with a place to toss your bag, kick off your shoes and just sit and relax?
How do you find a breather from the chaos of the day? The answer is personal. Ponder it while you make your choices for this remodel; you'll love your new kitchen more if you keep this answer in mind as you design the space.
The organizational layout of the room is the first step to creating the kitchen space you want, but your cabinets, counters, and furnishings are what make the room truly yours. Once you've decided on how the room will be arranged in general, you're ready to give the space its unique personality and make it feel like home.
---
Kitchen Cabinet Ideas by Material and Style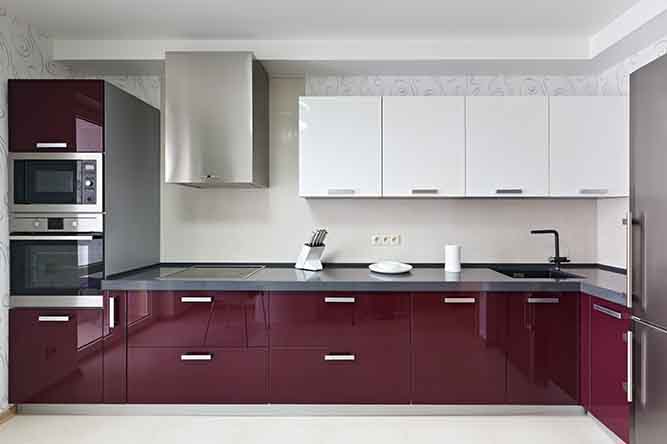 If this is your first time selecting cabinets, you will be amazed at the options available. There are so many styles in various species of natural woods and manufactured cabinet finishes that choosing one can be a little overwhelming.
Natural or Manufactured Materials
Thermofoil cabinets are made by heating vinyl over an MDF core. The resulting product is cost-effective, requires very little maintenance, and comes in a plethora of paint colors and simulated wood grains.
Solid wood cabinet doors and drawer fronts, on the other hand, require a little more maintenance and are higher in price but can last 20 years or more, compared to the expected lifespan of 10 to 15 years for Thermofoil cabinets.
Natural Woods in Solid or Veneer
Solid wood cabinets are commonly made of maple, oak, alder, or cherry. They can be finished in a clear coat, painted, or unfinished. Veneer cabinet doors offer striking natural wood grains, including walnut.
Wood cabinets are the most durable. They may require refinishing at some point, but they will stand the test of time. Solid wood is generally more expensive than manufactured cabinets, but they remain a perennial favorite among kitchen cabinet ideas.
Thermofoil Vinyl Laminate
Thermofoil cabinets give you a fabulous new look for a very reasonable price, and these cabinets won't warp or sag. They are easy to clean and require no further maintenance. If you are looking for a great return on your remodeling investment and don't need cabinets to last a generation, consider Thermofoil.
Be aware that Thermofoil cabinets are not heat-resistant. They should not be installed too close to appliances that get hot or that produce steam. They are excellent for the rest of your kitchen; they are just not ideal directly over your stove or next to your oven or dishwasher.
Countless Cabinet Designs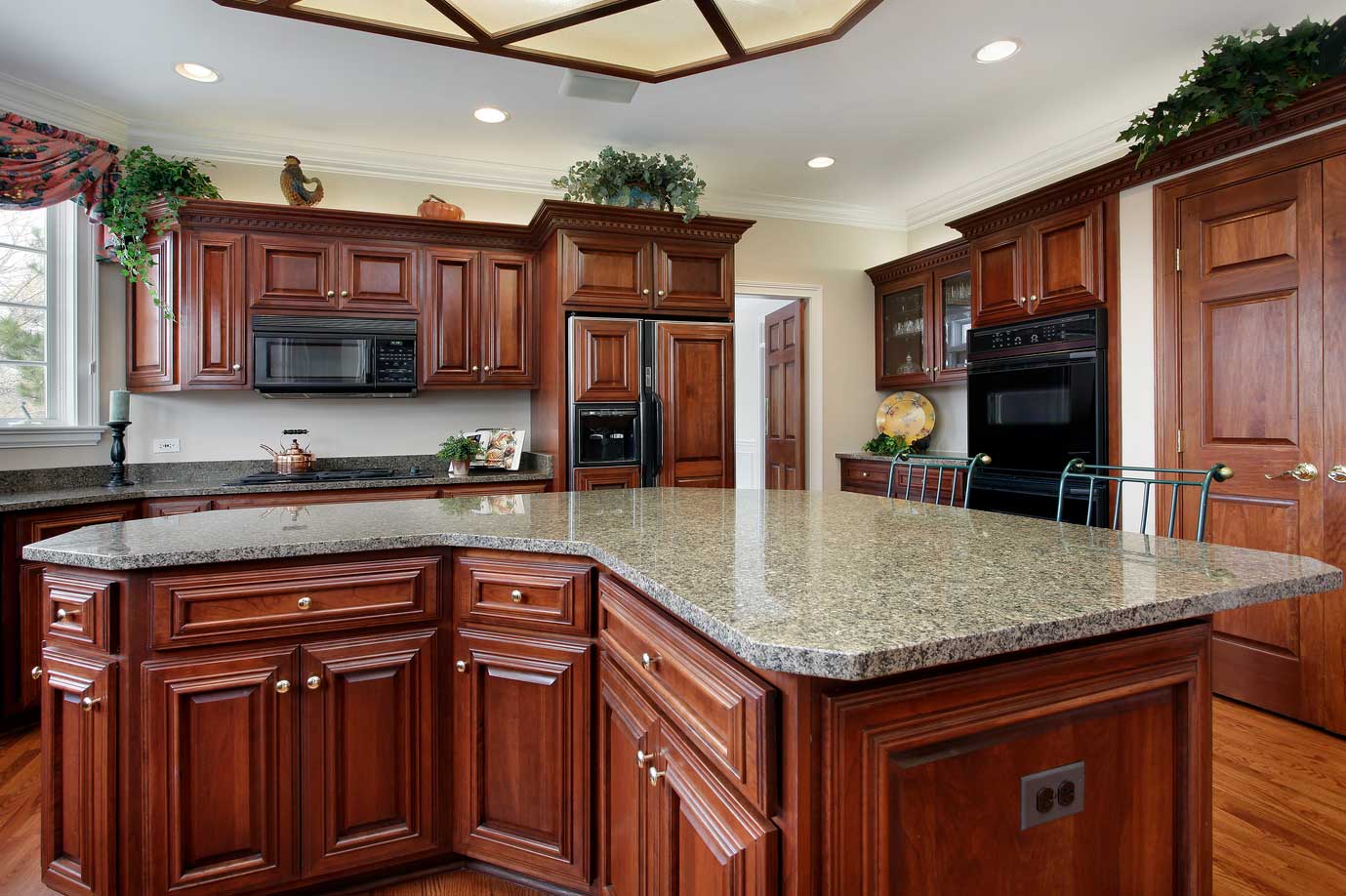 Cabinets come in countless designs to fit into every decor. First, decide how you want the room to feel, then you'll be ready to select cabinets that can help you achieve your desired look.
Modern Kitchen Styles
Flat panel, slab, and Shaker styles are all commonly used for a clean, modern look. Slab-style cabinets have no frame; they are, as the name suggests, a perfectly smooth flat surface. Flat panel and Shaker cabinets have a simple frame around the face of the cabinet or drawer front and a flat central panel.
Shaker-style cabinets are the most popular style, and they lend themselves well to a variety of kitchen designs. The visual simplicity is elegant and unpretentious.
Traditional Cabinet Designs
Shaker styles work in a traditional kitchen setting as well. Raised and arch panel cabinets have also long been popular in classic kitchen designs.
Raised panel cabinets offer a variety of frame designs from simple to ornate including square or beveled edges. The central panel is raised to match the depth of the frame. Arch panel cabinets are a kitchen favorite. With this style, both the frame and the raised panel are gracefully arched at the top of the cabinet door.
When painted, these panel designs lend texture to your cabinetry. In natural woods, they can be quite dramatic, especially those with arched panels.
Casual Kitchen Cabinet Ideas
For an inviting and casual look, you really can't beat the flat panel designs. Choose a lighter or medium tone wood or a warm paint color, and the simplicity of these styles makes any kitchen feel homey.
The Camden cabinet door has a panel reminiscent of beadboard for a country farmhouse or beachfront feel. The Cascade features a single groove to accent the edge of the frame if you want a little more definition.
Formal Options
To really dress up your favorite room, consider the darker wood tones and arched raised panels. Perhaps include several integrated glass front cabinets for displaying your favorite dishes or glassware.
Alternatively, you might choose dark-painted cabinets and drawers under your countertops and with coordinating light-colored cabinets and walls above. This concept works especially well if you like a formal appearance and you are working with a small room.
---
Kitchen Cabinet Ideas for Every Home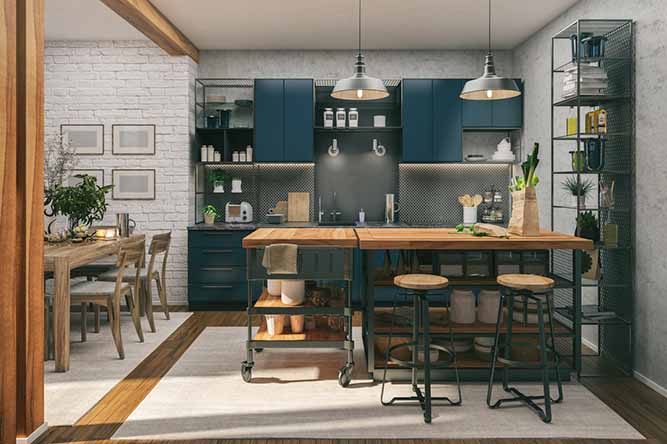 The cabinets make the kitchen. They are the most noticeable feature of the room, and they should serve you well for many years to come. Whatever look you're going for, the basic principles to consider to choose the best cabinets for your kitchen are universal.
1. Context
Work with the context of the home and the room. Look for cabinets that complement your home and a finish that works with the size and lighting conditions of the kitchen. Dark tones make the room seem smaller and weighty; light colors lend a lighter and more open feel.
2. Lifestyle
Get your kitchen cabinet ideas from your lifestyle and your personality. If you prefer that your guests visit in another room, choose your kitchen cabinets for clear, simple utility and leave the warm colors and casual styles for the den.
3. Purpose and Budget
If you just want to refresh the look of your kitchen for yourself or for resale, there are some terrific manufactured cabinet and drawer fronts that will maximize the return on your remodeling investment. Thermofoil is a great option for low maintenance and a beautiful new look that will allow you to stay within budget.
---
Finishing Up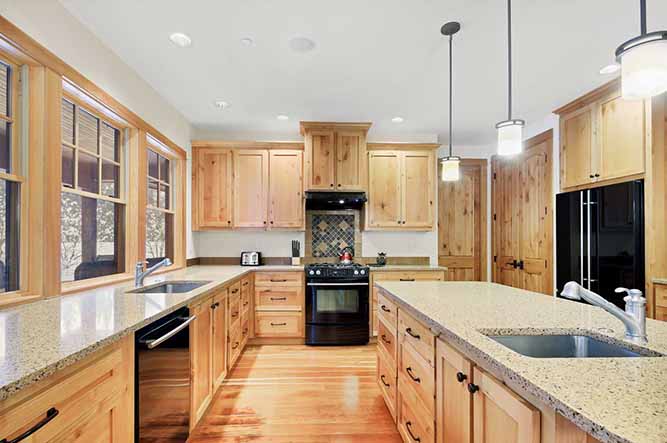 The best way to decide on your new cabinets is to look at all the options available. We offer hundreds of styles and finishes in all the popular materials. Visit CabinetNow to compare designs, colors, and prices. We can help you with a quote and can even provide you with samples so you can view your favorite kitchen cabinet ideas in your own home.
If you are ready to start ordering or if you need assistance, please feel free to call us at 1-855-669-5222 or send us an email at info@cabinetnow.com. Our team of cabinet experts is here to help with everything from measuring to ordering.