Replacing Cabinets Versus Refacing With Cabinet Fronts
If you want a sleek and stylish kitchen area, a new look for your cabinets can refresh the entire space.
You have a choice. You could tear out your old cabinets and put in new ones, or you can simply replace the cabinet doors and drawer fronts, also known as refacing them. Refacing your cabinet fronts is affordable and less invasive. It doesn't tear up your kitchen the way replacing the old cabinets would. As well as avoiding the expense of remodeling, it also takes less time.
In most situations, refacing with new cabinet fronts is the wiser choice. Just because your cabinet boxes are old doesn't mean you should replace them. Many times, older cabinets have as good or better materials and construction than newer ones. When you have older cabinet boxes that are in good shape, you can reface them instead.
---
When Replacing Your Cabinets Makes More Sense
Refacing cabinets that are too small or are falling apart is a waste of money. Replace your cabinets if any of the following circumstances apply to your kitchen.
Your Kitchen Has a Poor Layout
If your kitchen is designed in such a way that you don't enjoy spending time there, don't reface your cabinets; replace them instead. Perhaps the builder arranged your kitchen in a way that disrupts workflow. Maybe family members are forever crossing through the kitchen to the back door or other work areas, or you don't have enough storage space. When your cabinets are inefficiently laid out, you're better off replacing them than simply refacing them.
Your Cabinet Boxes Look Worn or Are Falling Apart
When your cabinet boxes are so worn that you can no longer drill in new holes or add new hinges, it's time to get new ones. Replace the cabinet boxes if they are falling apart or if the wood feels soft. In those situations, simply replacing the cabinet fronts is a waste of time and money, as you'll need new cabinets soon anyway.
Your Cabinet Boxes Have Water or Other Damage
If the wood is swollen from water damage, it can warp and grow mold. Replacing the cabinets is your best bet. The same goes if you find termite damage or if your metal cabinets have rust.
Your Cabinets Are Out of Kilter Because Your Floor Has Settled
When your home has an uneven foundation, your floors will settle. Your cabinets may be out of kilter as a result. You will need to repair the foundation and then replace your cabinets.
In most other situations, you are better off refacing your cabinets by adding new cabinet fronts.
---
Reasons To Reface Your Cabinets With Cabinet Fronts
There are many reasons that it makes more sense to reface your cabinets with cabinet fronts rather than replace them.
It Costs Less
Don't assume that completely replacing your cabinets is almost as easy or affordable as refacing. There are often a lot of extra hidden costs that come with replacement. Tearing out old cabinets and then building and installing new ones takes much longer and is more expensive.
Frequently, when you replace some cabinets, they won't line up with the exact locations of the old ones. That means you might have to repaint your walls. You may also have to hire someone to do extra plumbing and electrical work. Those extra costs add up. You can, in some cases, reface your old cabinets with cabinet panels for about half the cost of replacing them.
It's Easier
Replacing cabinet doors with new cabinet fronts is such a simple process that most homeowners can turn it into a DIY project. Remove the old fronts and be sure to label all the hinges if you plan on reusing them.
Remove the hinges, and sand down the boxes. Then you can either paint them or cover them with laminate sheets or veneer. Remove the drawer fronts from the drawer boxes or saw them off if they are each one unit. Then add new cabinet doors and drawer fronts.
It Takes Less Time
Replacing kitchen cabinets can take weeks. Refacing those same cabinets can take two people about two days. It's a much faster and less invasive way to make your kitchen beautiful.
---
Lead Awareness
If you live in an older home and the paint on your kitchen cabinets is more than 40 years old, that paint can possibly contains lead. You will need to take extra precautions when working with lead paint.
Order your cabinet fronts online to save money, and then think about hiring someone who knows how to handle lead paint. It is recommended to have someone experienced to refinish cabinet boxes that have lead paint.
If you choose to do the work yourself, take precautions to protect yourself and your family. Seal the kitchen with plastic and keep surfaces moist when you sand the cabinet box to keep the dust down. Wear a respirator when working with this paint. Use a vacuum with a HEPA filter that traps the particles rather than releases them back into the air.
---
Picking the Right Cabinet Fronts for Your Kitchen
There are a wide variety of cabinet fronts to choose from. The three main types of kitchen designs are the minimalist look, the classic look, and a more modern look.
The Minimalist Kitchen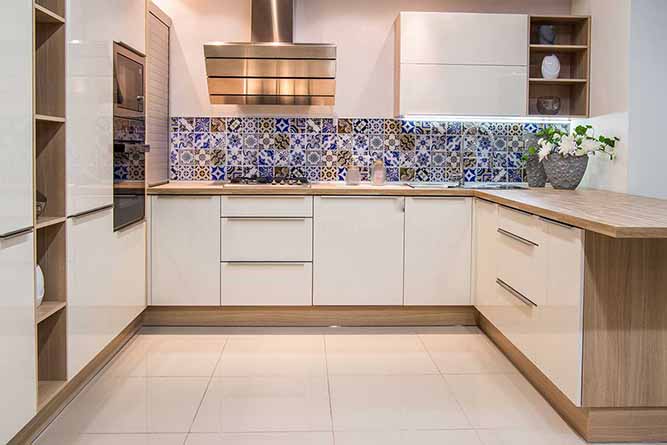 If you have a smaller kitchen, think about incorporating a minimalist design. Clear out the clutter in your kitchen. Make a list of the things that you must have, and then donate those extra items that are taking up space. Be sure to keep your kitchen clean.
Avoid detailing in a small kitchen. Subtle, clean lines are best. Choose recessed cabinet fronts or ones with a slab style.
The Classic Kitchen
A classic kitchen has a more traditional look. Look for raised panel cabinet doors with ornate designs and intricate outside edges. If you're looking for something more sophisticated, choose our Revere Cabinet doors. These doors have raised panels with the addition of clean, straight lines.
The Modern and Transitional Kitchen
An eclectic style is best for a modern kitchen. Eclectic designs mix multiple styles into one area, combining bright colors and patterns. For example, you can mix a classic look with something Bohemian. Your choices can be playful and edgy. For a modern kitchen, unfinished cabinets are an excellent choice. Paint them a bright color.
If you want a blend of both traditional and minimalist, consider Shaker cabinet doors for a transitional look. If you choose dark wood cabinets, paint the walls a bright color to help lighten your kitchen.
---
Choosing From a Wide Range of Cabinet Fronts
We have a wide range of cabinet fronts you can select from. You have your choice of materials and colors.
Shaker Cabinet Doors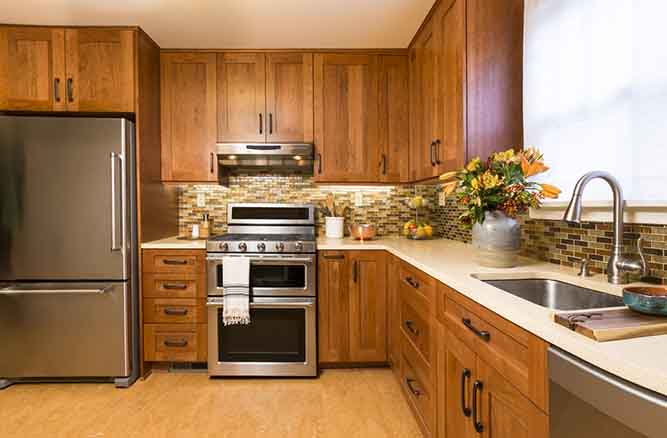 The Shakers had a reputation for making beautiful, high-quality furniture. Shaker cabinet doors and drawer fronts are just as strong and beautiful today. These doors have cope-and-stick construction, meaning two pieces are cut and joined to make 90-degree angles at the corners. The original Shaker doors were made from solid wood, but this kind of wood construction takes a lot of maintenance and can be expensive. Cabinet-makers today use medium-density fiberboard (MDF).
MDF is made out of residual wood fibers that are mixed with wax and resins and then put under heat and pressure. The end result is beautiful and durable, as well as moisture resistant. Many times, an MDF door has a thermofoil finish. This vinyl laminate is added to an MDF core using heat and pressure, giving you a beautiful cabinet door that is strong and easy to clean.
Wood Cabinet Doors
Your fingertips have oil that can leave grease and stains on your cabinet doors. Wood cabinet panels are often dark in color and hide those stains. As a result, you have lower maintenance costs. Wood cabinet doors can be easy to clean and refinish.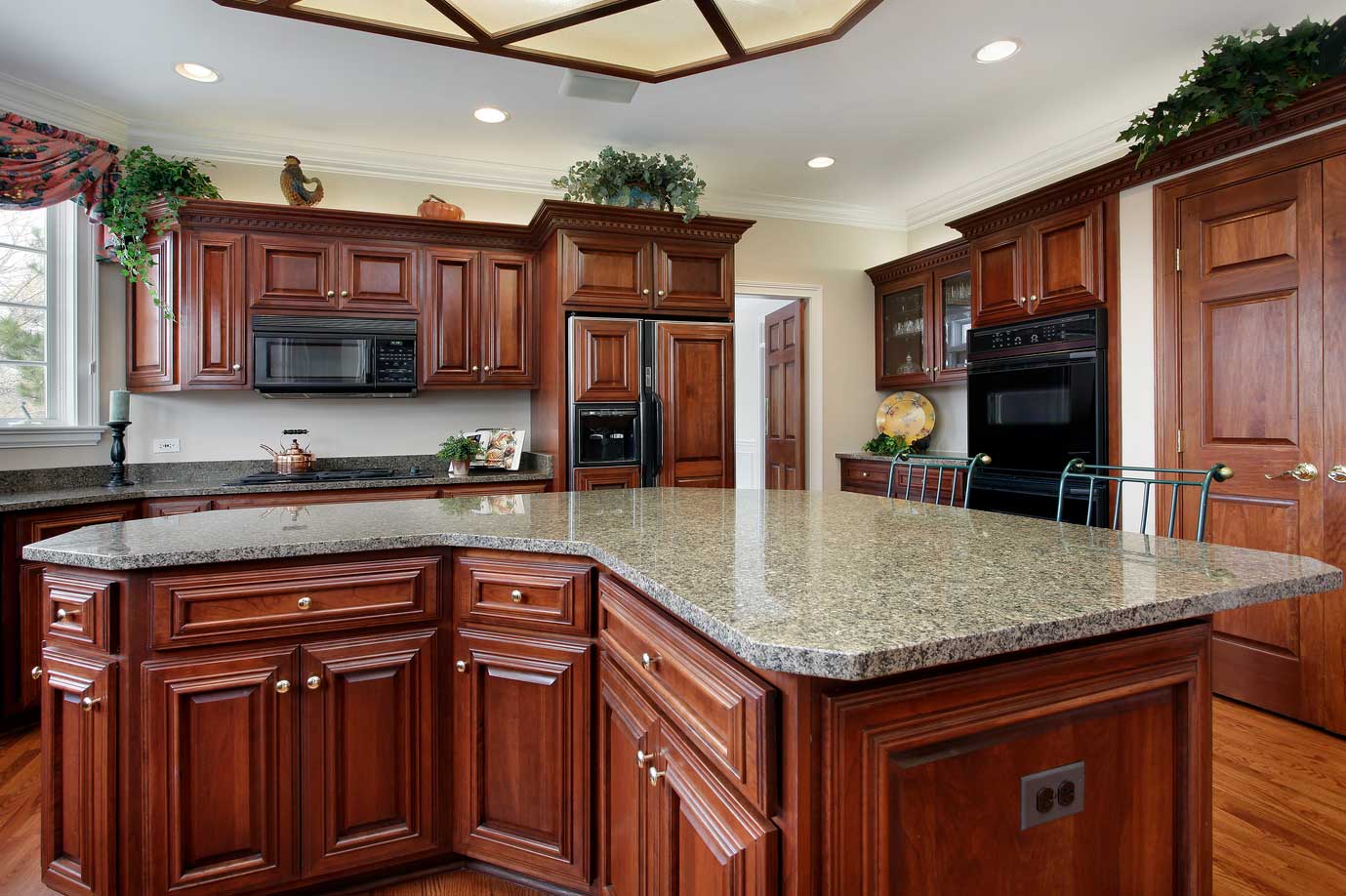 You can get these doors unfinished or painted, or order cabinet fronts that are finished with a clear coat. We offer wood cabinet doors with either flat or raised construction, and you have a choice between an arched or square panel. Stain your unfinished wood cabinet doors to give your kitchen a classic and beautiful look.
Laminate Cabinet Doors
Laminate cabinet doors are constructed out of compressed wood or wood particles along with melamine. The end result is similar to particle board but much tougher. Laminate is easy to clean and does a better job of resisting scratches and stains than wood. Laminate cabinet panels also don't warp or rot the way wooden ones can.
We use a high-quality thermofoil to wrap our laminate cabinet doors. These doors are then heated and pressurized onto an MDF core, making them strong and beautiful. You can get laminate cabinet doors in a wide range of designs and colors. These doors and drawer fronts are perfect for a rustic or traditionally styled mountain look.
With their MDF cores, thermofoil cabinet doors are as tough as they are attractive. These doors are completely finished. You don't need to paint them or seal them. They also resist dust and grime, making them easy to clean. Just wipe these panels with a damp cloth or use soapy water to clean off a tougher patch of dirt. They're moisture resistant and won't warp. They also don't chip or peel the way painted doors would.
Glass Cabinet Doors
Glass cabinet panels are another excellent choice. These cabinet doors have the center panels removed. Pieces of glass held together with either vertical or horizontal beams called mullions can take the place of the panels, or the panel can be left open.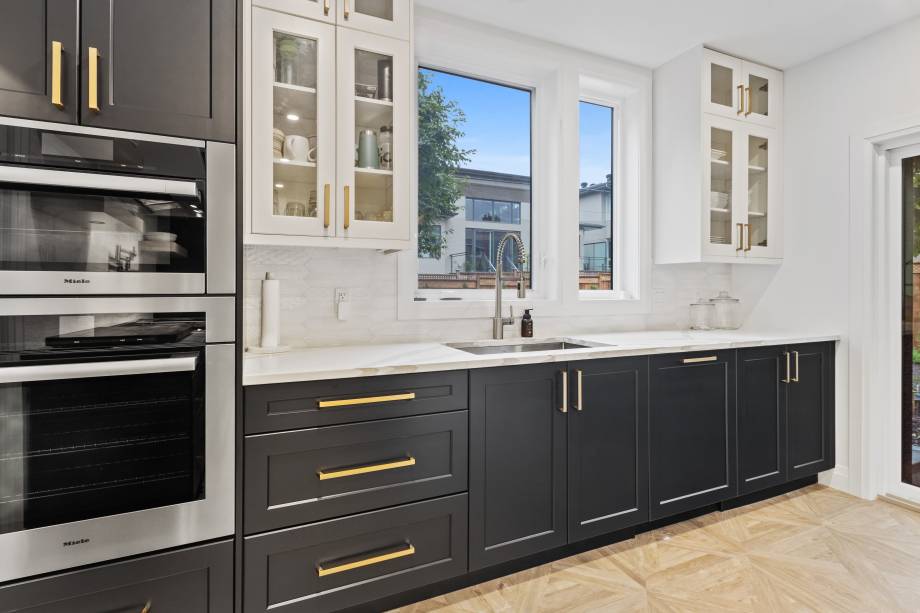 Glass cabinet doors make your kitchen stand out. Installing glass doors opens up any room by extending your line of sight to the back of the cabinet box. You can also put smaller glass doors on top of your wall cabinets. Display decor items for an artistic effect, and change the contents from time to time so you don't get tired of looking at them.
Glass doors also reflect light, making your kitchen look brighter. However, don't hang glass cabinet panels opposite a window, especially near a work area, as the sunlight could reflect into your face. If you choose glass doors, make sure you keep the contents in the cabinet clean and organized. Otherwise, your kitchen will look cluttered.
Unfinished Cabinet Doors
An unfinished cabinet door or drawer front is not covered with primer or paint, nor does it have a clear coat. We completely assemble and sand these doors and drawer fronts before sending them out to you. All you have to do is paint or stain them with the finish of your choice.
You can purchase any of our cabinet doors and drawer fronts unfinished from our website. Unfinished cabinet doors are cheaper than painted or pre-primed cabined doors.
CabinetNow offers the following solid wood options:
Alder
Cherry
Maple
Pecan
Red oak
White oak
If you want a more natural look, stain them instead of painting. We make these cabinet fronts and drawer fronts out of a select wood grade that has the most even color and grain.
For best results, choose a day when the temperature is about 70 degrees Fahrenheit. Also, make sure the humidity is in the range of 50%-70% before you start to stain your cabinet panels. Ensure there is proper ventilation so you don't breathe in any harmful fumes. Add a wood conditioner before applying your stain, then apply the stain in the direction of the grain pattern. Wipe away any excess in the direction of the grain pattern as well.
---
Make Your Kitchen Look Like New With New Cabinet Panels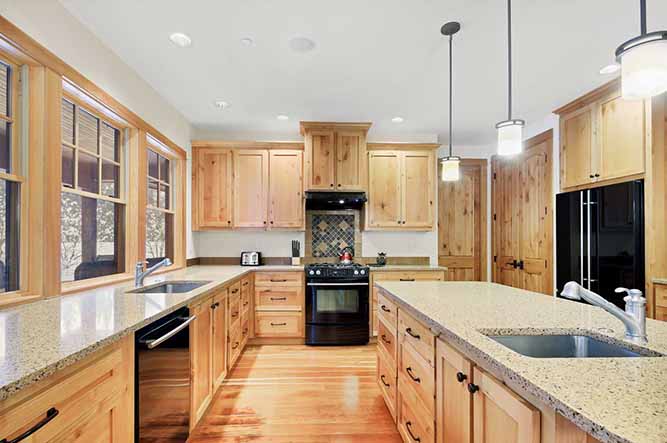 There are many benefits to remodeling your kitchen by adding new cabinet panels. It can increase the value of your home and make your kitchen more stylish. When you have a beautiful kitchen, you want to spend more time there. Invest a little time and money, and you can reface your cabinets and have a gorgeous place to cook and entertain. Work with CabinetNow to get the customized kitchen of your dreams.
If you are struggling with getting started, or you have a list and are ready to talk style and material, feel free to give us a call at 1-855-669-5222 or an email to info@cabinetnow.com. Our well-trained sales staff can help you with everything from measuring to ordering.